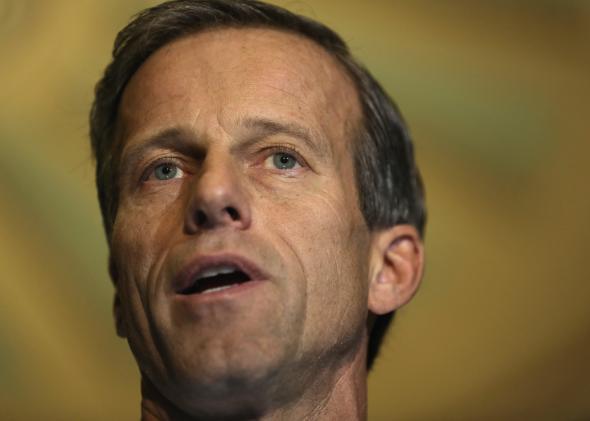 Sen. John McCain gave an angry speech against the nuclear option citing both Obama and Reid's reversal on the issue. But responses from some of his fellow Republican weren't so proportional.
To wit, Sen. John Thune:
"Senate Democrats are desperate to talk about anything other than the disastrous train wreck of ObamaCare," Thune said in a statement provided to Breitbart News by his office. "With millions of Americans facing dropped coverage, sticker shock from premium hikes, and the loss of access to their doctor, it's not surprising that Democrats would want to change the subject away from all of their broken ObamaCare promises. Unfortunately for Americans, they don't have the luxury of simply changing the subject."
Sen. Jeff Sessions (again speaking to Breitbart.com):
"Let's be frank. Presidents want to fill the D.C. Circuit Court of Appeals because they think they can shift the balance there and be able to advance their agenda throughout the judicial process because a lot of key cases are filed there, and lobbyists and outside forces that care about judges want the Presidents to put their kind of people in those positions–maybe even their law partner or their friend or their political buddy on that court," he explained. "We have no money in this country to fund a judgeship that is not needed," he added.
National Review writer Charles W. Cooke, drawing a change in Senate procedure to its natural conclusion:
"Well, how far do you take that?" Cooke pondered aloud. "You could just ignore the House. You could have a military coup, you could have anything at the end of this."
And no list would be complete without Rep. Steve Stockman:
For those of us heathens not raised in the church, here's a refresher: When Jesus was going to be crucified, Pontius Pilate gave the Roman citizens the option of freeing Jesus Christ and crucifying Barabbas, a criminal, instead. The crowd yelled, "Give us Barabbas!" thus condemning Christ to death. Stockman may actually have a point there—majority rule can lead to bad decisions. That's why I'm sure he'd be more than willing to give up his party's formidable majority in the House.
Correction, November 25, 2013: This post originally misspelled Pontius Pilate's name.
---