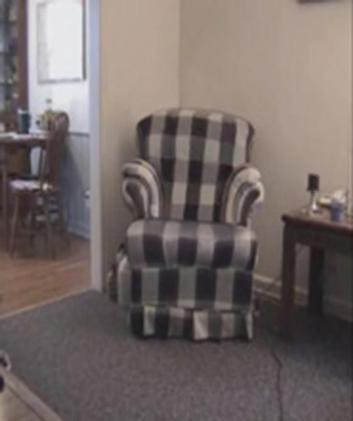 In an announcement posted to its website Tuesday, the FBI asked for the public's help in catching an unidentified child predator the agency has dubbed "John Doe 27." Video of the man having sex with a child was found online earlier this year, and the bureau doesn't know who or where he is. They do have one piece of evidence, though: He may have once owned or been associated with an extraordinarily ugly chair.
A lead's a lead, and, as such, the FBI has posted a large photo of the hideous, black-and-white-plaid chair, which appears to be from a house where John Doe 27 allegedly filmed himself engaging in sexual activity with a child. "Do you recognize this chair?" the FBI asks in the photo caption. Well, do you? If you have indeed seen it before, please dial 1-800-CALL-FBI.
Update, Nov. 14, 4:21 p.m.: The FBI is reporting that it has identified the man previously known as John Doe 27, and that an arrest warrant is forthcoming. In an email to Brandon Blackwell of the Northeast Ohio Media Group, FBI spokeswoman Vicki Anderson said that the agency "wishes to express its gratitude to the public for their vigilance and assistance in this case." It is unclear whether or not the man was identified through his ugly chair.
---