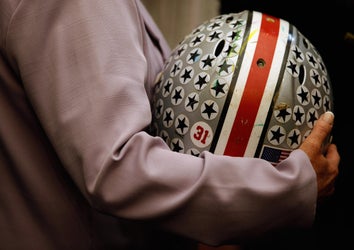 On the morning of Nov. 1, 2013, students at Marion County (Tenn.) High School arrived to find that the school had been vandalized. Trash was everywhere, the field house and the parking lot had been decorated with orange and black expletives, and a large "P" had been painted on various buildings. Everyone knew who did it: those jerks from South Pittsburg High School, Marion County's big rival, and the team they would be facing in an important football game that very night. 
Everyone was wrong. According to the Chattanooga Times Free Press, the culprit was actually a Marion County assistant football coach, who was attempting what appears to have been an incredibly ill-considered motivational stunt. The Times Free Press reports that Michael Schmitt has been charged with vandalizing the high school and pretending that South Pittsburg supporters did it, in order to get his own team pumped up for the big game. "It is sad to say that this event gives the whole community a black eye," a local police officer said. An orange-and-black­ eye is more like it—South Pittsburg rules!
Believe it or not, this is far from the dumbest thing a high school coach has ever done to get his team ready for a big game. In 1993 Dale Christensen, the head coach at Libertyville High School in northern Illinois, was forced to resign after he attempted to motivate his players by making them believe they were under attack by a crazed gunman. Christensen had a Libertyville student run up and pretend to shoot him with a starter's pistol; as the terrified players ran for cover, the coach fell to the ground and smeared ketchup all over his shoulder to make it look like he was bleeding. "I was so wrapped up in getting the kids ready for this game, I didn't stop to think about shootings at other schools," Christensen said later. (He also noted, "At Libertyville, we put a premium on psycho-physiological stamina." No really, he said that.)
Though the Christensen stunt was a couple of years before my time, Libertyville was my school's big rival when I played high school football. My coaches didn't really go in for grandiose motivational tactics. Occasionally they'd bring in some ex-Chicago Bear to speak to us during our pregame pancake breakfasts—I seem to remember Ted Albrecht being a staple of these events—but that was about the extent of it. And we still won more games than we lost. And we occasionally even beat Libertyville!
That's what always baffles me when I read stories about coaches who use ridiculous motivational trickery: Nobody needs hokey stunts to get psyched up for a big game. The saddest part of the Michael Schmitt story is that his alleged trick didn't even work: South Pittsburg beat Marion County 35–17. I'm guessing that the Marion County kids were so depressed that their school had been trashed that they couldn't concentrate.
---