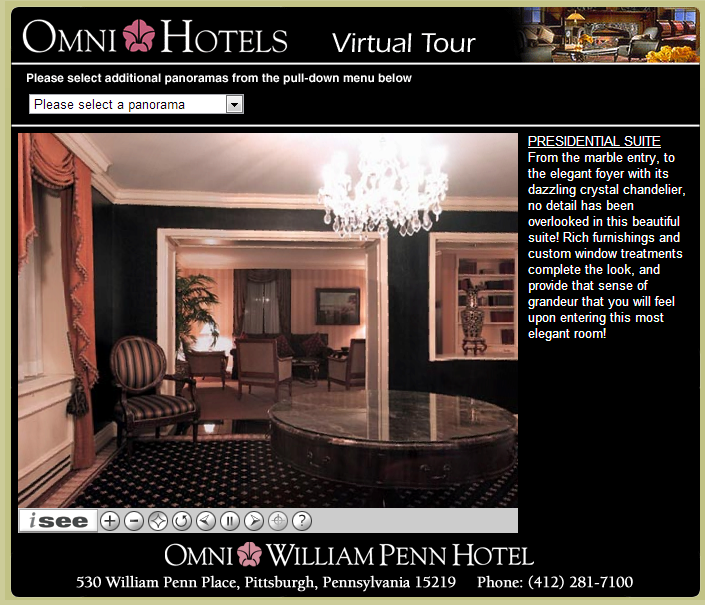 A brave and catlike homeless man became a personal hero of mine Tuesday when he somehow sneaked into the presidential suite of the swanky Omni William Penn Hotel in downtown Pittsburgh and fell asleep. The Pittsburgh Post-Gazette reports that the actual rich people who had rented the $2,500-per-night suite keyed into the room Tuesday night to discover 48-year-old Jeffrey Watson sound asleep on a couch in the suite's 1,300-square-foot parlor. According to the Omni's website, the suite also features "crystal chandeliers in the entry way, as well as a dining room, grand piano, full kitchenette, wet bar and sitting room." Sure beats sleeping in some filthy alley!
Anyway, Watson was arrested and hustled off to jail, where he was charged with trespass and theft of services. This seems a shame. I, for one, spent much of my 20s partaking of the services of various hotels in New York, Boston, and Washington, D.C., enjoying their lobbies, their bathrooms, and their complimentary evening cocktail receptions, all without paying a dime. I do not regret any of this: I was poor, and these hotels were plush. So sue me. (Note: Please do not sue me, hotels.) But sneaking into a historic hotel suite and falling asleep there is another kind of accomplishment entirely. In my opinion, Watson's exploits ought to be studied so that future generations can learn from his derring-do.
So how did Watson do it? While the Post-Gazette's account is brief, certain details confirm a few things that I learned during my own stint as a hotel freeloader. The most important lesson: It pays to poke around. In a statement, Omni William Penn management claimed that Watson was only able to access the suite because the parlor had been used earlier that day for some sort of event, and the door remained unlocked after the event concluded. A smart hotel freeloader knows that this sort of thing can happen. If you take a brief glance at the list of the day's events posted in the lobby, you'll come away with a long list of places where you might find an open sofa, or at least some warm cans of Sprite.
Just as important is confidence. Hotels get all sorts of guests, and your shabby apparel won't necessarily mark you as an intruder—half of this country's rock musicians, movie stars, and tech CEOs dress like homeless people, after all. If you stride through that lobby like you're supposed to be there, and project a calm, composed air, you won't be bothered. According to the Post-Gazette, Watson told the cops that he likes to sleep "wherever he can locate somewhere comfortable … to rest his head." Those are the words of a confident man. How much do you want to bet that he's done this sort of thing before?
Now, if I had been in Watson's position, there are a few things I might have done differently. For one thing, I would definitely have slept with my shoes on, so as to make it easier to flee upon being discovered. And I also might have covered myself with a blanket or a Persian rug, both to extend my nap and to postpone detection. But who am I to give this man advice? Nobody, that's who. I live like a pig in a small and disgusting walk-up apartment. Jeffrey Watson has napped in the shadow of presidents and prime ministers. God bless you, sir.
---