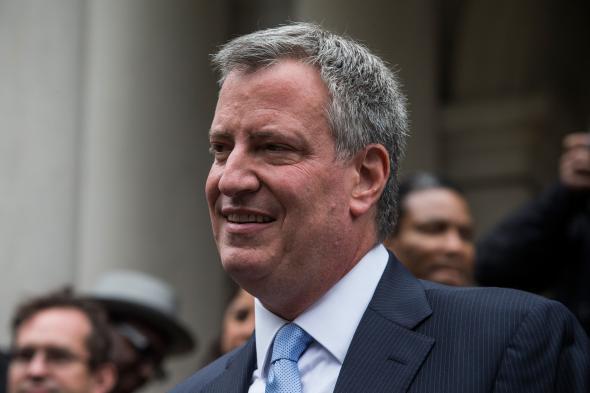 On Tuesday, New York City voters elected Public Advocate Bill de Blasio as the city's first Democratic mayor since David Dinkins took office in 1989. Among other things, de Blasio has promised to reform the New York Police Department by reining in its controversial stop-and-frisk program and replacing Commissioner Ray Kelly. Both of these moves would be reasonable ones, and would go a long way toward re-establishing community trust. But it's just as important for de Blasio to reform the department's quota-and-stat-driven policing culture, which is the root cause of odious policies like stop-and-frisk.
Though the NYPD has officially denied that its officers face any stop, summons, or arrest quotas, plenty of evidence suggests otherwise. In 2008 Officer Adrian Schoolcraft began surreptitously taping his bosses exhorting him and his fellow cops to meet various quotas in Brooklyn's Bedford-Stuyvesant neighborhood. Though Schoolcraft was made a pariah, an internal NYPD investigation later validated his claims. Around the same time, Officer Pedro Serrano began making his own tapes that indicated similar practices in his own South Bronx precinct. More recently, several New Yorkers filed a class-action lawsuit against the NYPD alleging that quotas were responsible for "about 700,000 questionable summonses since 2007."
Quotas aren't just controversial, they're counterproductive. They demoralize both working police officers and the members of the communities they serve. As NYPD union leader Patrick Lynch wrote in a Daily News op-ed this October, "Quotas are the worst possible way to try to produce more effective policing. They risk turning officers into automatons and fuel predictable, pervasive distrust between cops and communities."
So why do these policies persist, both in New York and elsewhere? Blame City Hall. A rising crime rate can be fatal to a mayor's broader ambitions. Thus, elected officials will pressure the police commissioner to keep the crime rate down—to "do more with less," in the soulless, detached jargon of our times. The police chief passes those orders on to his subordinates, who in turn exert pressure on rank-and-file cops to stay active and effective.
Too often, though, "activity" means issuing superfluous summonses and harassing innocent people for no real reason, while "efficacy" means ignoring or downgrading reports of serious crime. "Certainly, there's enforcement value to issuing tickets and stopping people on the street," Graham Rayman, who broke the Schoolcraft story, acknowledged in the Village Voice in 2010:
[B]ut the true value of this "activity," the [Schoolcraft] tapes indicate, was that it offered proof that the precinct commander and his officers were doing their jobs. With those numbers, the precinct boss could go to police headquarters with ammunition. Low numbers meant criticism and demotion; high numbers meant praise and promotion.
This maddening, oafish emphasis on "looking busy" is what's really behind the NYPD's abuses of stop-and-frisk. Bill de Blasio can spark serious police reform by making it clear that, in his administration, quotas and statistical manipulations won't be tolerated, and he can appoint a police commissioner who will follow through on that promise. If he does that, then New York's short-term crime rate may well rise, as precincts stop policing to make the numbers look good rather than to keep neighborhoods safe. But the department will never truly change until and unless City Hall instructs it to stop prizing appearances over meaningful results.
---