Eugene Morgan is a veteran of World War II, a Marine, age 96—and for 20-odd minutes, he's the most photographed man in downtown Washington. Morgan's misfortune was to arrive in the city on the second day of the 2013 government shutdown. His trip, organized by his 50-year-old son Jeff, couldn't really be rescheduled. So father and son showed up around 10 a.m. to visit the World War II Memorial.
They ran smack into a delegation from Congress. Minnesota Rep. Michele Bachmann and Texas Rep. John Carter were at the monument site, talking to Honor Flight's Jeff Miller about a minor act of civil disobedience. Since 2007, Honor Flight has organized free Washington trips for veterans who want to see the memorial before passing into the great unknown.
Thanks to the shutdown, that memorial is blocked by 4-foot-high portable railings, just like the rest of the open-air tourist magnets on the National Mall. The railings are incredibly easy to move, but the Park Service—the part of it not currently being furloughed—is technically supposed to arrest any scofflaws.
"Honestly, I think this is going to be over soon," Bachmann says to Miller, referring to the shutdown. "It's not going to be a problem."
Until it is, Republican members of Congress are arriving at the memorial, just ahead of the Honor Flight buses. They open the railings and cheer the veterans, in full view of a media that can't resist a good human-interest yarn. When a staffer points out Morgan to Bachmann and Carter, the members of Congress walk over to him, trailed by photographers.
"I'm Congresswoman Michele Bachmann, from Minnesota," says Bachmann. "We'd like to know: Would you like to go in and visit the memorial? There's going to be a lot of World War II vets here today—would you like to join them?"
"Yes, I would," says Morgan.
"Well, we'll open it up, and we'll let you in with us," says Carter.
The cameras descend and notepads circle as Bachmann explains the situation.
"Because of the government shutdown, these barriers are up, so we just want to make sure they get out of the way," she says.
"Why do they have the barriers set up today?" asks Morgan.
"Well, the government shut down the night before last," Bachmann says.
"Ohhhh!" says Morgan, politely. His eyes well up as he talks about how he and his brothers wouldn't have won the war and come home safely "if people back here hadn't prayed for us."
This Norman Rockwell scene is suddenly interrupted by a shout from the street.
"He's not an idiot!" yells Shemaya Klar, a realtor who happened to be biking by. "The government is shut down because of people like you, Michele Bachmann! You should be ashamed of yourself. Don't pander to a vet!"
Bachmann ignores the noise. Carter chivalrously steps in for her. "You don't think there's two parties in this country?" he snaps. He turns back to Bachmann. "We got a noisy guy over here who wants to get politics involved. Don't pay attention."
In just a few seconds we've been reminded of why Republicans have sprained ankles running to the World War II Memorial since the portable railings went up. The angry-guy-on-bike is already a co-star of the shutdown drama; just the other day, one of them shouted down a drab House Republican press conference, calling members "pathetic."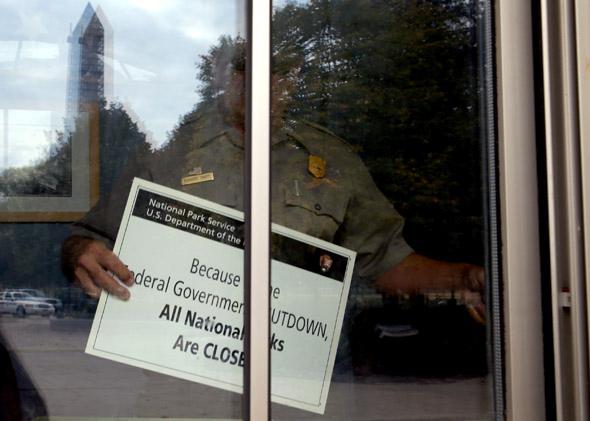 There can be no heckling at the memorial. It's a sanctuary, a place that Republicans can turn into a sort of theme park—Veteranland. When anyone heckles them, they can ask for some respect and point out that they reacted to the horrible "optics" of a closed World War II Memorial by trying to pass a small funding bill that would open the parks. Democrats blocked it, because they want to open the parks with a full continuing resolution. There go the Democrats' plans of making Republicans look like shutdown ghouls. As polite people tell Klar to go away, Colorado Rep. Doug Lamborn arrives, and a staffer nudges him to get in a shot behind Morgan.
"These people, they may not live long enough to see it again," says Carter of the Honor Flight veterans. "This is a life-or-death situation for them. And if somebody was here to do foul things to this memorial, there's 435 volunteers called Congress that'll be happy to come down here and provide security. I don't even have to poll them." A reporter asks him if he's really making the best use of his time by working here instead of inside the dome. "This is the most efficient use of my time. Yessir. Any time I can honor somebody who risked his life for my country, that's the best use of my time."
Bachmann and Carter mill around; they're joined eventually by Michigan Reps. Kerry Bentivolio and Bill Huizenga. A Huizenga staffer hands out a letter that the congressman has just sent to the Park Service, urging National Park Service Director Jonathan Jarvis "to call on the United States Senate" and ask them to pass the House's park-funds bill. But soon enough the congressman spots a real-life park bureaucrat, the gray-and-green clad spokeswoman Carol Johnson, and absorbs her into a shame circle, asking who "gave the order" to put up the gates.
"The memorial is legally closed," she says.
"Who would be in charge of enforcement?" asks Lamborn.
"The park police, not us," says Johnson.
"You have no plan if they break down the barriers?" asks Lamborn.
"I personally don't!" says Johnson.
The frenzy around Morgan dissipates when the Honor Flight buses come into view. The organizers have already positioned themselves at the memorial entrance that's closest to the buses—most of the veterans will enter slowly, many in wheelchairs. A few members of Congress gather by the barrier, too, ready to push it aside. As soon as the veterans get close, a crew that includes Lamborn and Missouri Rep. Vicky Hartzler rolls away the barricade to great cheers and many camera angles.
Bachmann positions herself at the front of the impromptu greeting line. "I'm Congresswoman Michele Bachmann from Minnesota," she says, gripping a scrap of yellow police tape. "Welcome to your memorial!" Texas Rep. Louie Gohmert, who like Bachmann voted against the rule on the penultimate continuing resolution, appears out of nowhere, dressed down to shirtsleeves, shaking hands and telling people about "what I just said on Fox News—what are they gonna do next, put drapes on Mount Rushmore?"
The veterans slowly make their way into the memorial. The crush of politicians and reporters makes it slower. Missouri's two senators, Republican Roy Blunt and Democrat Claire McCaskill, accompany them in. They brush past congressmen from Florida, Kansas, Colorado, Minnesota, and Michigan, whose states are not actually represented in the Honor Flight today.
"Is this your first Honor Flight?" asks a reporter.
"Oh, gosh no!" says McCaskill. "The thing that's a little confusing is the number of people here who don't have honor flights from their states to play politics on the backs of veterans, which I think is bad news."
"Do you think the Park Service will arrest these veterans?"
"Of course not!" says McCaskill. "People who work in the Park Service have a lot more common sense than people in the Tea Party."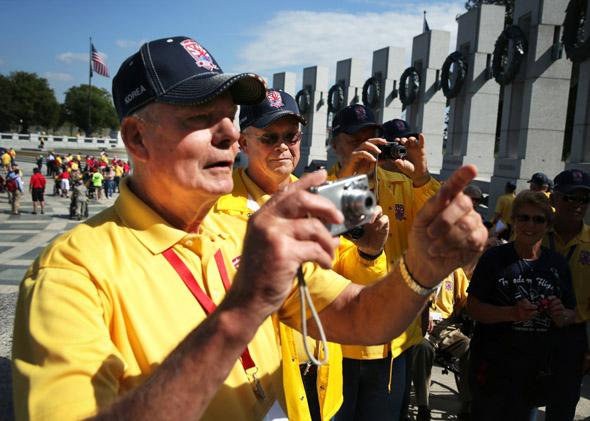 The drama-cum-circus spreads around the memorial. Huizenga finds himself in a short shouting match with a tourist who's standing outside the memorial, looking down at him.
"Do your job!" yells the tourist.
"We tried to fund the veterans and the parks, and the Democrats blocked it," Huizenga says.
"You didn't try! Why don't you vote for a gun ban and maybe the Democrats will stop Obamacare," the tourist says.
There is, fortunately, enough space left over for the veterans to enjoy their memorial. Gaza Bodnar, a Navy veteran from Missouri who helped with the landing on Okinawa, Japan, regales me with the story of the occupation and the party that broke out when the troops learned that a nuked Japan had surrendered, preventing a bloody land invasion. "I think we shot every bullet we had into the air," Bodnar says.
What does he want Congress to do, to end the shutdown? "It's terrible. Somebody wants something, they knock him down. Why can't they make a deal? Obamacare is not going to affect me whatsoever, because I go through the veterans' hospital. I don't know … it's nice if they can take care of people," he says.
But it's not like the nonagenarians walking the memorial are willing to become health care pundits. They, like the parks, were supposed to be victims of the House GOP's intransigence. The House GOP wants to prove that they're really victims of a reckless President Obama. Texas Rep. Randy Neugebauer spots the bureaucrats sliding back the barrier and starts to confront Johnson again. Beyond the barrier, another heckler tries to rattle him.
"Why don't you go back to Congress and do your jobs?" the heckler yells.
"Why don't you get a job?" snaps Neugebauer.
The heckler, a Harvard Ph.D. student named Matthew Kustenbauder, calmly moves away as Honor Flight workers tell him to keep it civil. "The nerve of him to say 'get a job,' " says Kustenbauder. "For all he knows, I've been furloughed."
Neugebauer goes back to work—i.e., back to berating Johnson—but is surprised by another heckler, a 62-year-old furloughed worker named Jim O'Keefe.
"This woman is doing her job!" he says. "The government won't do its job and pass its budget."
"The House did its job," yells a Republican staffer.
O'Keefe makes his way out of the memorial. Carter, who heard the exchanges, asks O'Keefe where he works. The Department of Homeland Security, says O'Keefe.
"I'm the chairman of that subcommittee," says Carter. "We'll have you back to work."
"OK, and you can go back to work!" O'Keefe says.
"I am working. I'm here on the request of my veterans," Carter says.
"You're not doing your job. You're grandstanding," O'Keefe says.
"OK," sighs Carter. "Have a nice day."
"I'm having a bad day!" says O'Keefe as Carter walks past. "And so are the people who work for me and don't know how they'll pay their rent!"
There's a small smattering of applause, but O'Keefe doesn't smile. Why, he asks, is there so much coverage of this—CNN over there, Fox over here—and nothing about the average government employee. "They're focusing on National Parks and monuments," he says. "I gotta put a lot of that on journalists. They should dig a little deeper and get the real story."
Read the rest of Slate's coverage of the government shutdown.