This morning's print edition of the Washington Post gives us what is sure to be everyone's favorite correction of the day (the second one down):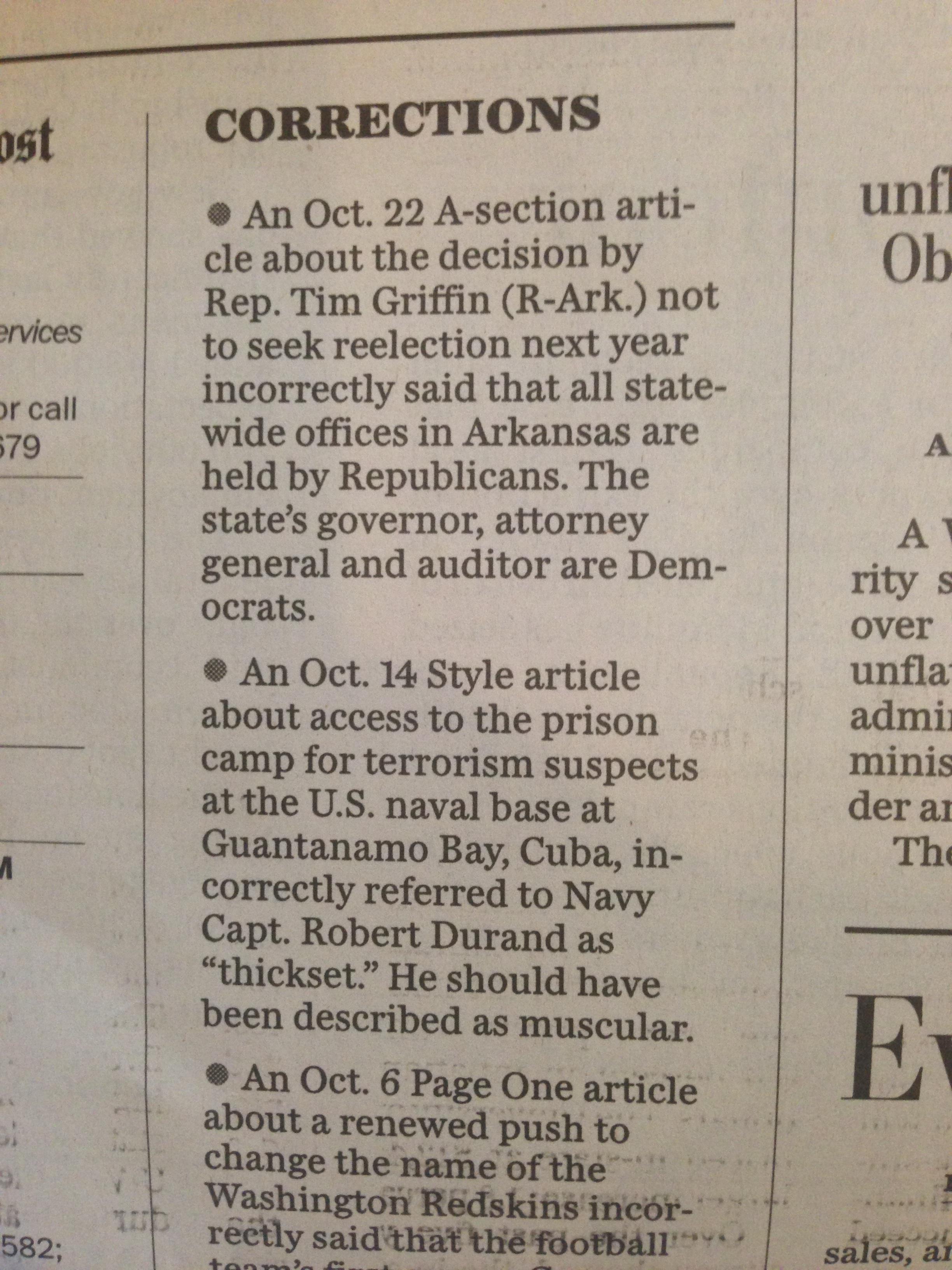 In the online version, the editors are describing the change as merely a clarification, but the point remains the same: Washington's paper of record now states as fact that Capt. Robert Durand is indeed muscular and definitely not thickset, an adjective that often brings with it the image of a burly man who, while strong, is carrying a few extra pounds. The original article ran without a photo of Durand, so we're largely left to take the editors' word on the current state of Durand's true physique. (Although, in fairness, an AP photo taken in May shows a rather fit-looking Durand.)

Here's how the fixed graph now reads online: "Durand, a tall, muscular man with glasses, talks about his work in big, broad terms. He is not merely a public affairs officer, but someone engaged in a struggle against a determined al-Qaeda propaganda effort."

It's unclear exactly what prompted the correction*, although it's probably safe to assume that Durand or someone close to him complained to the paper and asked for the change. As the original article explains, Durand, who leads a 20-person public affairs team at the U.S. Naval Base in Guantanamo Bay, runs a tight PR ship, and even had a colleague sit-in for his interview with the paper. The public affairs unit's goal is to bring more transparency to the base, but it is also tasked, in the words of the Post, "with convincing visiting reporters — and through them, the world — that Guantanamo has changed significantly and for the better."
***Follow @JoshVoorhees and the rest of the @slatest team on Twitter.***
*I've reached out to the reporter who wrote the story and will update if I hear back.

(h/t @emmersbrown)