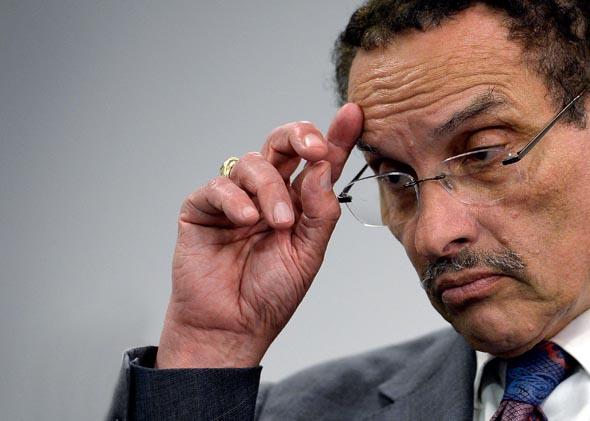 It was a pure accident, but Senate Democrats did Vincent Gray a solid. On Wednesday, Majority Leader Harry Reid's colleagues joined him on the Capitol steps for a press conference about the government shutdown. Gray, the mayor of the District of Columbia since 2011, walked right behind the senators. When they moved locations, Gray followed them. As Republican staffers giddily tweeted the botched photo op, Reid told the mayor to lay off. "I'm on your side," he said. "Don't screw it up. OK?"
The showdown brought some national media attention to Washington, D.C.'s plight, as a federal city with rights inevitably stifled or traded away in budget deals. But any reporter or pundit knowledgeable in shutdown-fu knew what Reid meant. He had to put the screws to D.C., and he had to shut down Republicans' "piecemeal" continuing resolutions that exempted the city from the shutdown. To do less would relieve the pressure on the opposition and slow down a deal. Drenched in conventional wisdom, I raced to Twitter and called Gray a "moron." He disagreed. I apologized. This ended with Gray inviting me to talk it all over.
And so, on Friday afternoon, I was ushered inside a boardroom on the sixth floor of the Wilson Building. Gray was working from a long conference table covered in papers, decorated with a couple of half-empty water bottles from meetings. The city hasn't closed down any visible public services since the start of the shutdown. Gray never intended to shutter the city's operations. The shutdown plan that the city had been required to submit at the start of the year informed the feds that all of the city's 32,000 employees were "essential," and nothing would close if the Congress, predictably, screwed up.
"Working with Congress from this seat is a real formula for cynicism," said Gray, sitting behind the paper mound. "It's incredible to me that people either can't see or don't want to see the distinction between the District of Columbia and these federal agencies being closed. The money we're talking about is money generated by people who live in the District of Columbia. We send probably $3.5 billion to the federal government every year. We generate $6 billion in other taxes. It's hard to know at times whether folks don't fully get the distinction or whether they simply don't want to understand the distinction because it doesn't help their political purposes."
The $3.5 billion number was pretty well known—any visitor to the council building sees it blinking on an LED marked "D.C. Residents Federal Tax Dollars Paid." (Actually, as of today, the number's closer to $3.8 billion.) Anyone registering a car in D.C. can opt for a license plate labeled "Taxation Without Representation." The political impotence of this city, written into the Constitution, is a cause for every mayor or councilman who wants to win re-election. It only changes after a major Democratic Party win or a political crisis. Gray doesn't want this crisis to go to waste.
"If [the shutdown] is solved in a way that includes a recognition that we are separate and distinct from the federal government for these purposes, I think we'll have passed the ball down the field," said Gray. "If it's simply resolved in the same way it is for the rest of the federal government, I don't think we will have made much progress at all, and the fight is going to have to continue. The fight will continue anyway, because nobody's going to give us full budget autonomy as a result of this effort. But the closer we get to a recognition that we are different, then I think we can feel that there's actually been some progress emanating from this. Otherwise, it will just be, we got dragged along in the course of this, and when the story is written it will be that the government is open again, and you might get a paragraph or two somewhere that the district government was included in the funding."
Before that happens, Gray and the council are alternating between doom and brio. Since the shutdown began, the city's tapped a reserve fund of $140 million to keep paying employees. There have been no mounds of uncollected trash or stranded buses, no B-roll of a city in turmoil. (There have been cutoffs for people on Medicaid, but that's hardly B-roll material.) Come Oct. 15, the city needs to make payroll. If the shutdown continues, there's a $1.5 billion reserve fund that, as far as the feds know, the city cannot tap. But nobody's ever tried it.
"We're trying to determine what authority would be required to use those funds for contingency purposes," said Gray. "What happens if we get to the point where we've exhausted everything? There are potentially fines, potentially jail time, but then you're rolling the dice. Will you really be prosecuted?"
This isn't what concerns Democrats. They didn't just vote down the "piecemeal" CR to fund D.C.—they voted down all of the piecemeal CRs. They view the Republicans' plans more cynically than Gray does. At the start of 2013, the House Oversight Committee collapsed the subcommittee that used to manage D.C., and Chairman Darrell Issa took ownership of the task. Issa's talked about giving D.C. more autonomy.
Gray believes him. "He represents a district in California," Gray explained. "Somebody tell me what he gets out of this, in tangible terms? Probably, this city does suffer from being too 'Democratic.' Republicans assume they're not going to get much out of it because there's so little Republican representation here. And then the Democrats just take it for granted because they figure no matter what they do, people will vote Democratic in this city." This is Gray's problem with the theory that hurting D.C. will, somehow, make Republicans panic and cut a deal. "How does allowing garbage pickup in a city that's 80 percent Democrat hurt the Republicans?"
Maybe it doesn't. In 2011, though, when the Congress narrowly averted a shutdown, it was partially at the expense of D.C. Republicans, who then had wanted to pack the CR with policy riders. One of the Democratic compromises put the riders in effect for D.C., and just D.C. "I'll give you D.C. abortion," President Obama told House Speaker John Boehner. There is no evidence that this lost Obama any votes in the city.
"But I actually don't think they will do that again," said Gray. When that deal was made, he got himself arrested in a mass protest in front of the Senate offices. "The way we reacted to it, that actually got international press. And it didn't make anybody, especially the president, look very good. So I don't think that there will be a statement made like that. A statement either verbally or in how they resolve this. Also, when you look at our budget now, most of those riders have disappeared. The abortion rights issue has been a rider consistently, but the guns stuff, the needle exchange, all those things have disappeared, and that's progress."
That's how the mayor of the Capitol City ekes out gains: by getting arrested, arguing with people, and hoping the media pays attention. "I've talked to Harry Reid after that press conference," said Gray. "I've talked to Valerie Jarrett. The day before last, I had a discussion with the White House, for 45 minutes. We went back and forth, back and forth, until the person I was talking to said: You have a point of view and I'm not going to change it."
Read the rest of Slate's coverage of the government shutdown.
---