Faced with barricades, a group of veterans ignored the government shutdown and stormed the National World War II Memorial Tuesday in Washington, D.C. "We've had this planned for a long time, almost a year," explained John Howerton, who served with the 3rd Marine Division in Okinawa, Japan. But when his group arrived on the National Mall, they were met by "black barricades and police tape."
Howerton, brought to Washington as part of an Honor Flight program, has traveled across the country to visit the capital and pay his respects. Before long, the vets—from Korea and Vietnam in addition to World War II—moved the barricades aside and streamed down to the monument below. "They weren't going to keep the veterans out of here," said Jamie Miller, part of the planning committee for the trip.
Tourists and onlookers followed, and, apart from the fountains being turned off, it looked like a normal day at the monument. Well, except for Rep. Michele Bachmann, on hand to show support, tweet, and lend her opinions on the matter. "They had smiles from ear to ear, they were so happy," she said of the veterans. "President Obama and Harry Reid wanted the government to shut down, so they could say 'Look at those evil Republicans, they want this to happen.' "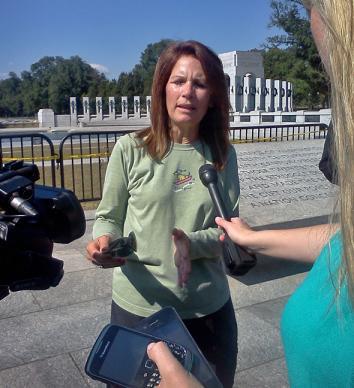 But don't worry, assured Bachmann: "We aren't going to let these World War II veterans be used as political pawns."
Similar visits are scheduled every day this week, according to Carol Johnson, a spokesperson for the National Mall and Memorial Parks, who herself was "excepted" from furlough just to deal with the situation at the monument. (She was supposed to go home at noon.) It remained unclear if future visiting veterans will be allowed in. "It's just really unfortunate that it comes to this," said Miller. "Here we are, celebrating the memorials that these guys fought for. It's supposed to be the land of the free but yet everything is closed off because a couple hundred people can't come to a decision."
Read the rest of Slate's coverage of the government shutdown.