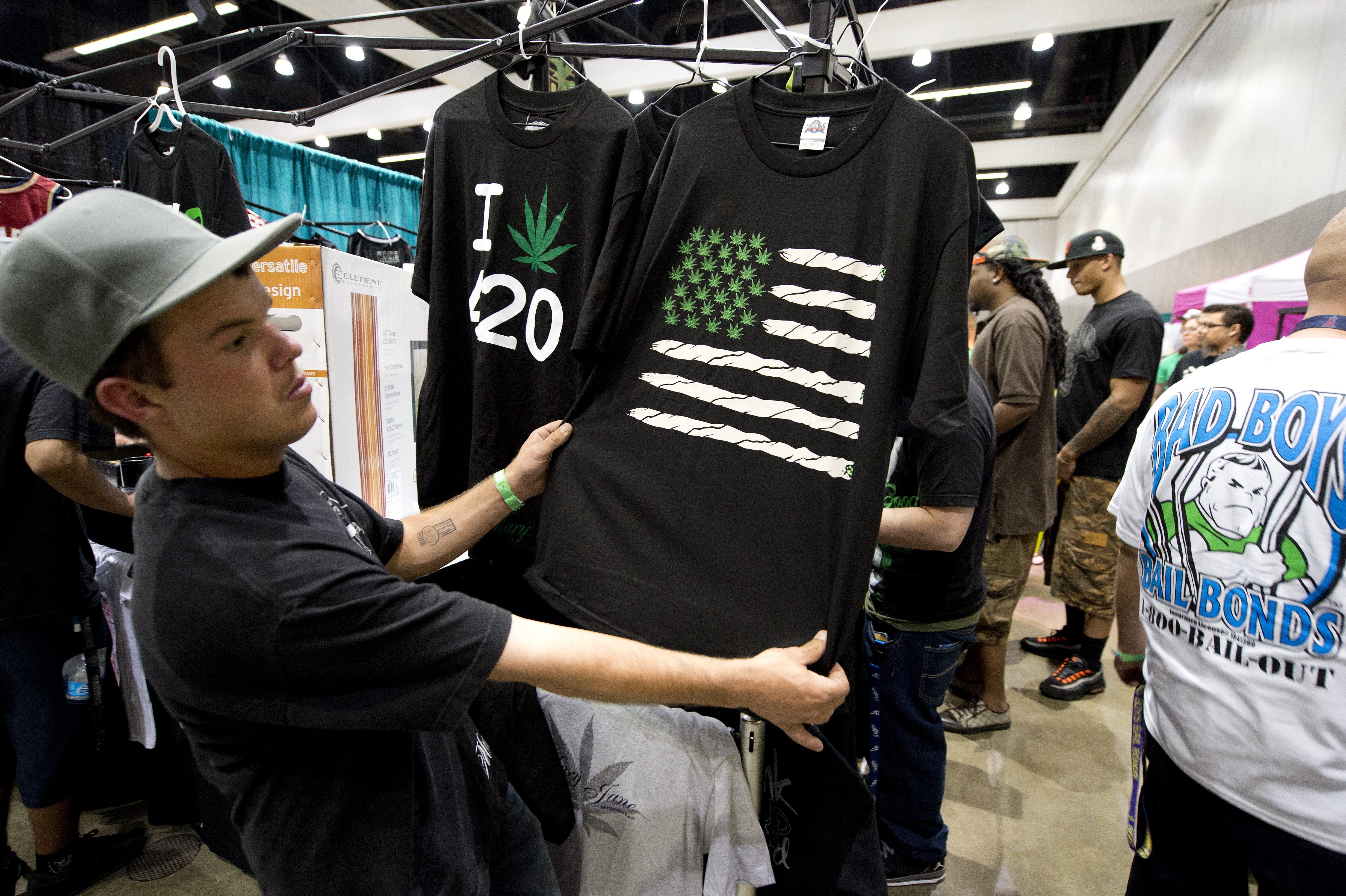 When convicted arsonist Lawrence Ahrens Jr. began his sentencing hearing last week, he must have known that his best shot at avoiding a long prison stint was to make a good impression on the judge. So it's hard to understand why, as Paul Nelson at the Albany Times Union reported, Ahrens "strolled into court with a white short-sleeve T-shirt with 'Snitches Get Stitches' splashed across the back in bold letters." The shirt's obverse was just as inappropriate: It featured a big red stop sign above the word "Snitching." Stop Snitching—get it? Nelson notes that Ahrens "apparently wanted to make a statement" with his daring attire, but, from where I'm sitting, the only statement he made was "I have bad judgment." The judge made Ahrens remove the shirt, and then sentenced him to 15 years in prison, where his shirts will be chosen for him.
Now, the First Amendment generally protects your right to express yourself through your apparel, and if I were a judge, I'd like to think I wouldn't get upset about other people's clothing choices. But some judges take courtroom decorum very, very seriously, and if you're coming to court for whatever reason, you need to realize that. The record is filled with tales of defendants, jurors, and spectators who have scandalized courtrooms with their provocative garb. Here are six notable stories.
Killer's highly appropriate, highly inappropriate T-shirt. T.J. Lane, the Ohio teenager convicted of killing three students at Chardon High School in 2012, looked appropriately buttoned-down when he arrived at his sentencing hearing earlier this year. Halfway through, though, he removed his collared shirt to reveal a white T-shirt on which he had hand-lettered the word "KILLER." The shirt wasn't even Lane's most antagonistic decision that day—when given the chance to make a statement, he turned to the crowd, flicked them off, and informed them that "This hand that pulled the trigger that killed your sons now masturbates to the memory. Fuck all of you." He got three life sentences, which he was probably going to get anyway, but his behavior undoubtedly helped reassure the judge that he had made the right decision.
Child's play. As a crime blogger, I live for stories with headlines like "Tasteless T-shirt irritates judge." That was the headline of a 2010 Cincinnati Enquirer story about William Morse, a southern Ohio man and criminal court regular who enraged the judge in his criminal damage trial by wearing a T-shirt featuring the murderous doll Chucky from the Child's Play movies and the slogan "Say goodbye to the killer." The judge, who was apparently not a movie fan—or maybe he was a movie fan, and simply became upset that anyone would ever like the stupid Child's Play movies enough to wear a T-shirt promoting them—postponed the trial and warned Moore that he would be held in contempt of court next time if he didn't wear something more appropriate. So, something from the Leprechaun series, then.  
Somebody tell these (judges). In 2010 an alternate juror in a New York City police brutality trial was dismissed after she wore a T-shirt to court reading "Who The F– Is Kanye West?" According to the New York Post, the angry judge chastised the juror before excusing her, saying "Do you think it's appropriate to wear a shirt that says 'f—' on it in my courtroom?" I can only imagine that the juror responded by rolling her eyes and saying something like, "God, show me the way, because Manhattan Supreme Court Justice Thomas Farber's trying to break me down," before reading several disparaging comments about Taylor Swift into the record.
We (don't) like short shorts. In 2008 a Lancaster, Ky., woman named Kirstie Arnold was jailed for wearing short shorts to court despite twice being warned not to do so by an increasingly exasperated judge. The back-and-forth in the Lexington Herald-Leader's story is extremely entertaining, and worth quoting at length:
"I'm sorry," Arnold said.
"No, you're not," [Judge Janet] Booth said. "I told you twice. I even fined you for being in contempt. Why shouldn't I throw you in jail today? You apparently don't care about the court's orders."
"I forgot," Arnold said.
"How could you forget?" Booth said. "No, seriously, how could you forget? It's a complete disregard of court order. Complete. You should go to jail today, and you're going."
"Well, next time I won't wear shorts," Arnold said.
"I bet you won't," Booth said.
I bet she will!
No, the judge makes the rules. In 2010 a northern Illinois woman named Jennifer LaPenta gave her friend a ride to court, and then decided to stick around and watch the proceedings from the front row of the gallery—right in the middle of the judge's line of sight. That's a bad place to sit if, like LaPenta, you are wearing a shirt reading "I have the pussy, so I make the rules." The judge disliked the shirt so much that she charged LaPenta with contempt of court and had her taken immediately to jail.
Playing to type. The Minneapolis Star Tribune did a story a while back about inappropriate courtroom attire, polling local attorneys about the dumbest clothing choices they'd ever seen. Though the story is full of gems, my favorite involves a suspected arsonist who showed up in court with a pack of matches conspicuously clipped to his belt. I guess his Backdraft shirt was at the cleaners that day.
Though I could go on, I'll stop here. If you've got stories of inappropriate courtroom attire, email me at justintrevett@fastmail.fm. If I get enough responses, I'll compile the best ones and include them in a future post.
---