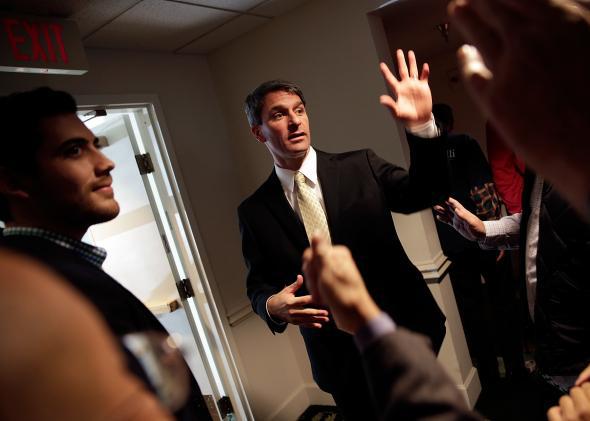 I spent Monday traversing the highways and byways and … other things made of concrete in Northern Virginia to capture some of the gubernatorial race between Republican Ken Cuccinelli and Democrat Terry McAuliffe. No SlatePitches to be found—Cuccinelli was working his base, while McAuliffe was bringing out popular Democrats and emphasizing that he'd be as busy and mainstream as high-speed rail if he won the election.
It so happened that during the McAuliffe rally, the final Washington Post poll on the election came out and gave the Democrat a 12-point lead. In 2009 that poll had given Bob McDonnell an 11-point lead, actually underrating the rout he'd win.
But since then, Quinnipiac has released its final survey, telling readers that the race is "going down to the wire" with a 45–41 McAuliffe lead.* That's closer than the last, 46–39 lead; it's enough, if you're Cuccinelli, to hope that the other polls are wrong, all the Libertarian voters come "home," and the candidate who has not cracked 41 percent in any three-way poll all year will win. I see that Politico calls the race a "nailbiter." This will probably be enough for the press, with no horse race to cover in New York or New Jersey, to hold off on the full Cuccinelli obit for six days.
*Quinnipiac also demonstrates a peeve of mine, finding a 47–45 McAuliffe lead in a Libertarian-free race, and calling that "too close to call." People: You do not "call" an election based on a poll. You would not say that the New Jersey governor's race, which Chris Christie is now winning by a 2–1 margin, can be "called." Although it sort of can be. You wait for the votes.
---