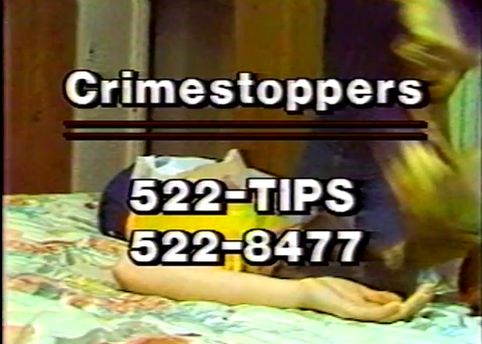 I love anti-crime videos, especially ones that aim to scare viewers by graphically depicting the lawless horrors that await you as soon as you step out the door. I've written about my fondness for the work of the great J.J. Bittenbinder—the undisputed king of this genre—but there's a whole world of discomfiting personal safety content on YouTube that deserves attention.
One of my favorite videos of the moment is this gem from the 1980s, about the Crime Stoppers program in Hamilton, Ontario. Crime Stoppers is an international initiative that encourages citizens to anonymously share information about crimes with police. It's a good idea. But I can't think of anything less likely to prompt public participation than this frightening video—which, if I were a Hamilton resident, would probably just cause me to flee to the comparative safety of Detroit.
The sense of dread hits you right from the start. "This is the city of Hamilton. The entire region of Hamilton-Wentworth has a total population of about 450,000 people. A safe region, by Canadian standards. But, realistically, we do have our share of crime," the narrator intones, as ominous music plays and we cut to a scene of a hoodlum savagely garroting a woman to death, then carrying the body into a dark basement. (Warning: This video could be disturbing to some viewers, in particular those who cannot abide violence and subpar Canadian acting.)
That's not the only wonderfully inappropriate scene. The video also features a graphic re-enactment of a violent home invasion and murder (1:38); a rousing history of the Crime Stoppers program—"Dateline: Albuquerque, New Mexico, 1976"—narrated over scenes re-enacting a gas station robbery (3:38); and the assertion that "there is an active element in our society that would rather rob, rape, steal, and kill than lead normal, productive lives," as the camera zooms in on a blood-covered woman writhing in pain on the street.
"The program is not for the squeamish," the narrator warns. Perhaps that explains why, as of this hour, YouTube reports that this video only has 25 total views. I'm guessing at least a half-dozen of those are mine. Come on, Slate readers—give the Hamilton, Ontario Crime Stoppers the audience they deserve.
---