Bashar al-Assad, the dictator of Syria, wants to make one thing very clear: His offer to join the global convention against chemical weapons and submit his poison gas stockpiles to foreign supervision wasn't driven by fear of a U.S. military strike. "Kerry, Obama, and the American administration seek to appear victorious, as if their threats yielded success," Assad told a Russian TV interviewer Thursday. "This is insignificant to us. What matters is for the decision to be based on Syria's convictions and a significant Russian role. … Without the Russian initiative, the matter would not have been deliberated with any other country."
Like most of what Assad says, this is a lie. He responded to the threat of force, and only the threat of force will make him follow through. To extract his compliance, we'll have to maintain our military readiness and resolve.
On Sept. 8, with U.S. forces poised to attack, Assad sat for a CBS News interview with Charlie Rose. Assad refused to admit he had chemical weapons. But he added, "We'll do anything to prevent the region from another crazy war." The next day, after U.S. Secretary of State John Kerry conceded that Assad could theoretically avert the attack by turning over all his poison gas, Russia seized on the remark. Sergey Lavrov, Russia's foreign minister, said Russia would "immediately begin work with Damascus" to implement Kerry's suggestion "if the establishment of international control over chemical weapons in the country will prevent attacks."
On Sept. 10 Syrian officials signaled their acquiescence. Foreign Minister Walid al-Moallem said Syria "agreed to the Russian initiative as it should thwart the U.S. aggression against our country." Prime Minister Wael al-Halki said Syria would go along in order "to spare Syrian blood." Russian President Vladimir Putin urged the U.S. to call off its military plans. The Russian-Syrian initiative could succeed, he argued, "only if we hear that the American side and those who support the United States in this sense rule out the use of force."
On Thursday Lavrov repeated that plea: "We proceed from the fact that the solution on this problem will make unnecessary any strike on the Syrian Arab Republic." In a New York Times op-ed, Putin called the Russian-Syrian offer "a new opportunity to avoid military action."
Now that the U.S. Congress has withdrawn consideration of its authorization to use force, Assad is regaining confidence. He thinks he can jerk us around. In the Russian TV interview, he says he'll follow through with his chemical weapons offer only if the U.S. stops "delivering arms to terrorists" in Syria. In other words, he won't even submit to inspections of his poison gas, let alone relinquish it, unless we cut off all aid to the Syrian rebels.
Don't fall for it. If we relax, Assad has endless ways to drag this out. So far the only tangible concession he has produced is a letter of intent to join the chemical weapons treaty. He hasn't signed the treaty, reported where his stockpiles are, admitted inspectors, or allowed them to begin destroying his arsenal. Each of these steps can be delayed and dangled as leverage for further demands: noninterference in the civil war, Israeli disarmament, the Golan Heights, you name it. He'll keep his gas. And he'll use it again.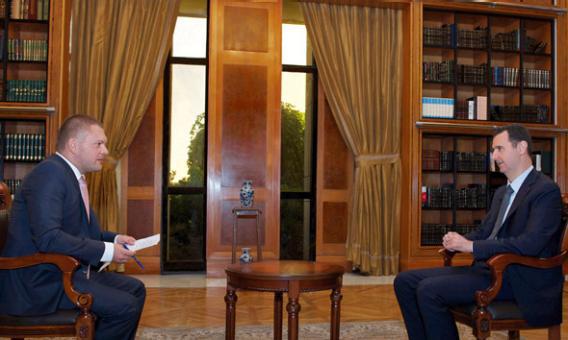 The only way to push him through the treaty and inspection process is to stick with what works: force. "Why did Syria agree to the Russian initiative?" the Russian interviewer asked Assad. "Why so rapidly?" Assad blathered for a while about Syria's long-standing wish to rid the Middle East of such terrible weapons. Eventually he conceded that "in relation to current developments, Syria as a state genuinely seeks to avert another war of lunacy on itself and countries in the region, contrary to the efforts of warmongers in the U.S."
Exactly. He did it to avert the missile strike. Keep the missiles ready.