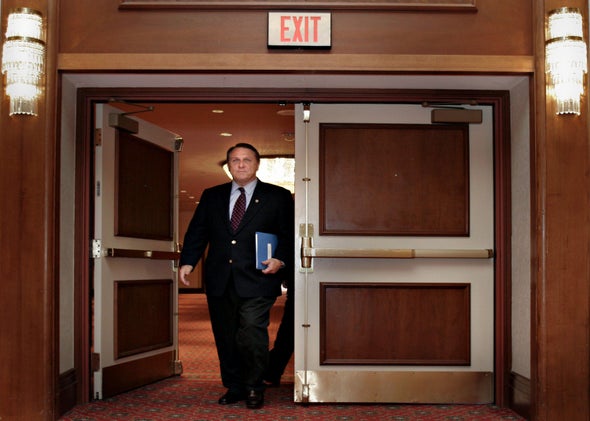 The Senate Conservatives Fund spent this summer recess running 60-second TV ads in which Sens. Mike Lee and Ted Cruz explained why you should sign up to the Defund Obamacare cause. "There's bipartisan agreement that Obamacare isn't working," said Cruz in one ad. "Teamster President James Hoffa said Obamacare would destroy the 40-hour workweek that is the backbone of the middle class."
Hoffa did indeed say that, in a letter co-signed by the presidents of the UFCW and UNITE-HERE. "The law creates an incentive for employers to keep employees' work hours below 30 hours a week," they wrote. "Fewer hours means less pay while also losing our current health benefits." And in September, the AFL-CIO adopted a resolution condemning how the ACA would drive up health costs.
Now, however, the unions are silent. When I called the Teamsters to ask about their position on the "defund" resolution, I was told that they basically weren't commenting on the ACA at all. The AFL-CIO took a similar vow of silence, pointing me to a recent statement condemning "Republican hostage-taking" over the CR, without saying anything specific about Obamacare implementation.
Is Big Labor climbing back aboard the Obamacare bandwagon? Well, sort of. Labor's beef with Obamacare starts with the Taft-Hartley health plans, used by about 20 million people, that are negotiated between employers and unions. When Obamacare goes into effect, some employers will find it more cost-effective to push workers onto exchanges. Taft-Hartley plans aren't eligible for subsidies, despite labor's effort to change that, and make the plans more competitive with the cheap stuff coming down the pike.
Republicans, gleeful to watch any labor/left feud break out, have exploited this in two ways. First, they've attacked unions for demanding a special (and impossible) benefit from the government. Second, as you can see from Ted Cruz, they've amplified the voices of labor leaders who've histrionically warned that the working class will be gutted if these subsidies don't become available.
Labor was happy to pound the table as long as it was negotiating with Barack Obama. Now that it sees Republicans latching onto its criticisms, it's clamming up.
UPDATE: UNITE-HERE also declined to comment.
---