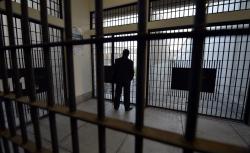 The Albany Times Union recently published a three-part series about sexual assault and harassment in New York state prisons, and it's worth your time. The articles are a sobering reminder that, despite what America's tasteless comedians would have you believe, prison rape doesn't always involve forced inmate-on-inmate sodomy. In fact, according to the most recent data from the Bureau of Justice Statistics, staff-on-inmate incidents are the most common form of sexual misconduct in America's jails and prisons.
The Times Union stories focused on cases where male guards sexually harassed or abused female inmates. Here's the Times Union's Alysia Santo—with whom, full disclosure, I used to work:
Since 2006, the state's prison agency has substantiated 33 incidents involving the sexual abuse of female inmates by prison staff and 27 incidents involving sexual harassment by staff. It's a situation well-known to state officials for decades, yet New York state has continuously failed to implement policies used in other states to protect female prisoners from being sexually victimized by prison employees, usually correction officers. One New York women's prison ranked among the worst in the nation for prison rape, with a rate five times the national average.
Sixty total incidents since 2006 might not seem like very many. But the real number of guard-on-inmate sexual assaults is almost certainly higher, given that inmates have little incentive to bring charges against a person who holds so much power over them. When corrections officers are charged with sexually assaulting an inmate, they often defend themselves by saying that the sexual contact was voluntary, or that they had been seduced by the inmate. This is nonsense. Sure, in some of these incidents, the inmates might initially appear willing participants. But in a prison context, an inmate can never truly consent to a sexual encounter with a corrections officer. The power dynamics are such that the guard has the upper hand.
This is especially true when we're talking about male corrections officers and female inmates, given the physical size and strength differences between the two parties. To be sure, the majority of opposite-sex corrections officials are responsible individuals who would never even think of sexually liaising with inmates under their charge. And yet there are plenty of opportunities for the predatory minority to strike. As Santo notes, New York is one of the few states that allows male guards to pat-frisk female inmates in non-emergency situations. They are also allowed to be alone with female prisoners in areas of the prison that aren't monitored by cameras. In short, there are ample opportunities for an unscrupulous CO to harass or assault an inmate away in relative privacy. This means that, if an inmate does make a complaint, it's a his-word-against-hers situation.
The Times Union suggests that the number of officer-on-inmate sexual assaults could be reduced simply by barring male corrections officers from working in women's living quarters; after Michigan instituted a similar policy in 2005, writes Santo, "the frequency of allegations plummeted." But in New York, the corrections union has resisted these sorts of reforms, claiming that such restrictions would count as gender discrimination and violate equal-employment laws.
Michigan's policy was only implemented after the state was hit with a federal investigation and a class-action suit charging widespread sexual abuse of female inmates. It'd probably take a similar crisis for New York's prisons to adopt such a policy. Until then, the problem is probably best addressed through small steps. Outfitting COs in certain facilities with wearable cameras might be one solution. Making it easier for inmates to report sexual abuse without fear of reprisal, perhaps by establishing some sort of third-party tip line, is another. Reforms like these, along with a renewed emphasis on managerial accountability, could go a long way toward convincing inmates, COs, and outsiders that staff-inmate sexual misconduct is not to be tolerated. And it shouldn't be tolerated. Our justice system punishes convicted criminals by depriving them of their liberty. Only a broken system allows corrections personnel to deprive them of their dignity, too.
---