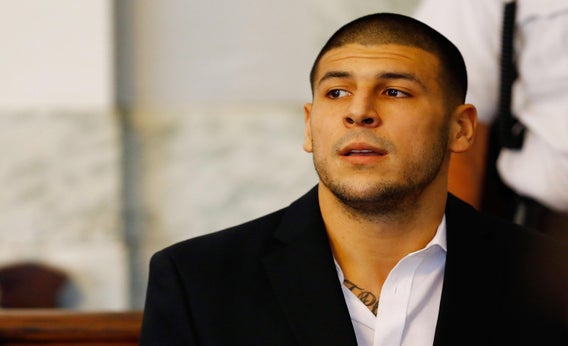 There are lots of places where you can find entirely pointless power rankings of NFL teams. Here at the Slate Crime blog, we're proud to bring you an entirely pointless power ranking of alleged NFL criminals. Who's up? Who's down? And who's got a shot at toppling the NFL's reigning king of crime?
1. Aaron Hernandez, TE, ex-Patriots (murder, weapons charges). It'll take some doing to knock the former Pro Bowl tight end from the No. 1 slot. Not only was Hernandez arraigned today on charges in connection with the murder of 27-year-old Odin Lloyd (he pleaded not guilty), recent news reports indicate that police have found video footage that might aid their efforts to link him to an unsolved double murder from 2012. Just like the team with which he is no longer affiliated, Hernandez is a dynasty in the making in these rankings.
2. Ausar Walcott, LB, ex-Browns (attempted murder). The rookie linebacker was arrested this June after he allegedly punched someone in the head outside a gentlemen's club with enough force to land the victim in the hospital. (He was released by the Browns soon thereafter.) Though the case is still pending, I don't expect Walcott to last long in the No. 2 slot. The attempted murder charge seems like a stretch, as the victim has apparently recovered and Walcott claims he was acting in self-defense.
3. Titus Young, WR, ex-Lions (multiple charges, all of them weird). If any current or former NFL player has a shot at knocking Hernandez off his perch, it's Young, the troubled free agent wide receiver who was arrested four times in one week this offseason—for shoplifting, suspicion of DUI, attempting to steal his own car from an impound lot, and breaking into someone's house. There are currently multiple warrants out for Young's arrest after he repeatedly failed to appear in court. He'll only continue to climb these power rankings as the season continues.
4. Joe Lefeged, S, Colts (gun charges). Back in July, Lefeged allegedly attempted to flee police after a car in which he was riding was pulled over. The cops soon found him—and, in the car, they also allegedly found an unregistered gun belonging to him. How did they know it belonged to Lefeged? They also allegedly found a receipt for the gun with Lefeged's name on it. These are all very stupid decisions, if true, and they bode well for Lefeged's future on this list.
5. Daryl Washington, LB, Cardinals (aggravated assault, criminal trespass). Washington is charged with attacking his ex-girlfriend during an argument this spring, grabbing her by the throat and pushing her to the ground. He has pleaded not guilty, and the case has been continued until Oct. 9; this feels like one of those cases where there'll be about a dozen continuances, and then the charges will quietly disappear. Until that happens, though, Washington will hold on to his No. 5 ranking.
6. Matt Russell, director of player personnel, Broncos (DUI). What, you think players hold some sort of monopoly on destructive behavior? Broncos exec Matt Russell will be happy to prove you wrong. A day after he turned 40 this July, Russell allegedly got very drunk and crashed into two separate cars in two separate locations. Unfortunately for him, one of those cars was a police car. Russell was suspended indefinitely by the Broncos. His case is pending.
7. Mike Goodson, RB, Jets (gun charges, marijuana possession). Back in May, Goodson and another man were found in an apparent state of intoxication inside a car that had been inexplicably parked in the middle of New Jersey's Route 80. When cops searched the car, they found marijuana, a loaded gun, and illegal hollow-point bullets. Goodson was hit with several weapons and drug charges—to which he has pleaded not guilty—and a four-game suspension from the NFL. And he's still the most likeable player on the Jets' roster!
8. Adam "Pacman" Jones, CB, Bengals (assault). Pacman Jones has been a consistent presence on the police blotter since he entered the league in 2005.* This most recent charge happened after Jones allegedly hit a woman at a bar during the offseason. Jones, for his part, claims that he was provoked when the woman threw a beer bottle at him. "Just got arrested for protecting myself, I will not let this break me or change what I have work so hard for," he tweeted at the time. Stay strong, Pacman! Crime writers around the world need you to stay strong!
9. Megan Welter, cheerleader, Cardinals (assault, disorderly conduct). Welter, who was described in a wptv.com article as a "Cardinals cheerleader who delayed her dream of becoming a dancer when she joined the U.S. Army," sounds like an interesting woman. According to police, she is also a violent woman; Welter was arrested in August after allegedly assaulting her boyfriend, who had the presence of mind to record the incident on his mobile phone. Welter claims that her boyfriend attacked her first. Even though police couldn't find any evidence to support her claim, I'm willing to give her the benefit of the doubt, which is why she ranks so low—for now.
10. John Boyett, S, ex-Colts (disorderly public intoxication, resisting law enforcement). Earlier this week, Boyett, a sixth-round pick in the 2013 draft, was arrested in Indianapolis after allegedly getting rowdy at a bar, and, when a cop tried to intervene, announcing, "You can't arrest me, I'm a Colts player." He was arrested anyway, and once the team heard the news, Boyett was no longer a Colts player. His power rankings tenure, like his NFL tenure, will likely be brief.
Special mention: Jimmy Haslam, owner, Browns. Haslam bought the Browns in 2012 with money he earned from running a truck-stop chain named Pilot Flying J Travel. In April, federal agents raided the company's corporate offices as part of an investigation into an allegedly longstanding "fraud scheme to keep millions of dollars owed to customers as gas rebates," as the Cleveland Plain Dealer reported. Though authorities believe Haslam knew about the scheme, he has not yet been charged with any crime. If that ever happens, expect him to zoom right up near the top of this list.
*Correction, Sept. 6, 2013: This post originally stated that Adam "Pacman" Jones entered the NFL in 2010. In fact, he entered the league in 2005.
---