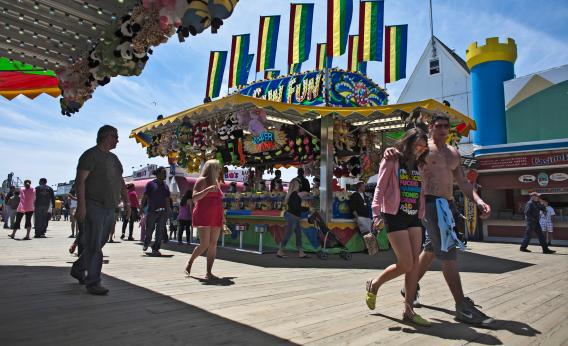 The Jersey Shore, an area still recovering from the devastation of Superstorm Sandy, was dealt another blow on Thursday afternoon when a "six-alarm fire" broke out on the seaside boardwalk.
The fire has spread to 20 buildings and has stretched four city blocks, according to the park police. The fire is believed to have started at Kohr's Frozen Custard shop, according to local television news station WABC. According to officials, the part of the boardwalk that is in flames is the only section of the boardwalk that was not destroyed by Sandy. There are no reports of any injuries.
"As it continues to burn the boardwalk and out buildings, it is very, very hard to stop. There is so much wood structure up there," Police Chief Francis Larkin told the Asbury Park (N.J.) Press. "Right now we can't say much other than they are doing their best to contain an out-of-control fire."
The fire, which started around 2:30 p.m., has destroyed at least 80% of the boardwalk in Seaside Park, according to Larkin.
---