"Haiti"—the very word conjures images of inevitable poverty and tragedy. The nation has been so spectacularly blighted—by war, by natural disasters, by disease—that insidious whispers still echo that some ancient curse was cast upon Haiti. After all, what else could possibly explain the extraordinary misfortune of a country that, just months after a catastrophic earthquake in 2010, was ravaged by a deadly cholera epidemic?  
In reality, cholera was anything but inevitable. It is a manmade curse, visited on the country not by acts of God but by the grossly negligent behavior of the very people charged with protecting and stabilizing Haiti. The disease had been unknown in Haiti for more than a century. In October 2010, United Nations peacekeepers leaked cholera-infected fecal waste into a tributary of Haiti's largest river—the same river countless Haitians use for bathing, cooking, and drinking. Eight thousand Haitians have died as a result, and counting. The number spiked as recently as spring of 2013 during Haiti's wet season.
The United Nations' responsibility for the outbreak has been confirmed in study after study. Epidemiological research shows that a combination of inadequate screening of peacekeepers from Nepal—where cholera is endemic—and poor sanitation practices at the U.N. base in central Haiti caused the outbreak. Microbiological studies demonstrate that the strain of cholera that seeped into Haiti's waters perfectly matches the strain of cholera prevalent in South Asia.
Last week, a team of researchers (including myself) from the Transnational Development Clinic at Yale Law School and the Global Health Justice Partnership between the law school and Yale School of Public Health published a report concluding not only that the U.N. brought cholera to Haiti, but that by failing to take responsibility for its role in the outbreak, the United Nations violates both its contractual commitments to Haiti as well as its obligations under international law.
However, even in the face of irrefutable evidence, the U.N. continues to deny its role. Previously, the organization rejected claims for relief from more than 5,000 cholera victims, simply declaring that the claims were "not receivable." This week, U.N. spokesman Martin Nesirky responded to renewed calls for accountability by asking the international community to donate money to help Haiti recover from the "double tragedy of earthquake and cholera" while saying nothing about the part the U.N. played in visiting this tragedy upon the country in the first place.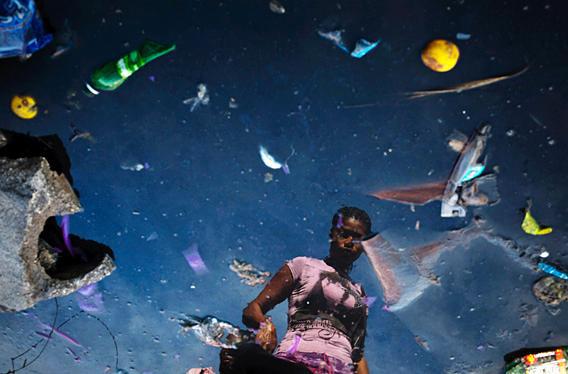 This response is shameful. The cholera epidemic is undoubtedly a tragedy of massive proportions. But by painting the earthquake and the epidemic with the same brushstroke, the U.N. plays into a dangerous conception of Haiti as pathology: a country that brings disease upon itself. This rhetoric is rooted in notions of disaster's inevitability in Haiti, as though the cholera epidemic is just another manifestation of the ancient curse that has purportedly gripped the country since the days of Toussaint L'Ouverture.
Why does this matter? The damage has been done; isn't the U.N. correct to focus on its plan to eradicate cholera by 2022 instead of dwelling on what happened in 2010? Funding and implementing this plan will, critically, prevent future harm. But it will not address the harm that has already befallen so many victims—the men, women, and children who died or lost loved ones in a profoundly senseless tragedy. Every sidestep by the U.N. denies Haitians something truly fundamental: their right to be treated as humans who were wronged and are owed redress.  
The U.N. should accept responsibility, and it can, in a variety of ways. It can issue a formal apology for its role in the cholera outbreak, a solution that will cost nothing and will begin to mend the deeply damaged, mistrustful relationship between Haitians and U.N. forces. It can set up the "standing claims commission" that it promised in its peacekeeping agreement with Haiti and failed to create, and use this as a mechanism to hear the claims of victims and their families. While certainly complex and challenging, large-scale claims commissions created in the wake of tragedy are not unprecedented. The United Nations Compensation Commission in Iraq and the September 11th Victim Compensation Fund both successfully addressed claims of a diverse and large group of victims. Finally, the U.N. can offer a guarantee of nonrepetition, accepting responsibility for the wrong, acknowledging the gravity of harm, and ensuring internal change so that such preventable tragedy will not happen again.
While conducting research in Haiti, we noticed a Creole slogan affixed to billboards and spray-painted onto cement walls: Kolera un se crim kont limanite! "Cholera is a crime against humanity!" It is the rallying cry of cholera victims' advocates. It is now abundantly clear that the U.N. brought cholera to Haiti. By failing to accept responsibility for this wrong, the U.N. continues to disregard Haitians' humanity.