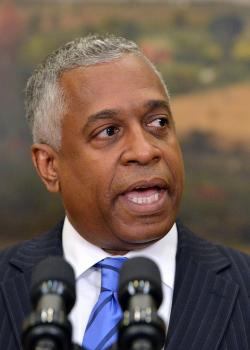 On Thursday morning a former U.S. attorney named B. Todd Jones was sworn in as the Bureau of Alcohol, Tobacco, Firearms, and Explosives' first permanent director since 2006. That's seven years ago, if you're counting. Seven years ago the mortgage bubble was still inflating, the iPhone had not yet been released, and the great Frankie Laine was still alive. How does any federal agency—let alone the one charged with enforcing federal gun laws—go leaderless for seven years? Blame the gun lobby and Senate Republicans, who for decades have pursued a deliberate and shameful strategy of hedging against federal gun control legislation by hobbling the ATF.
Republicans and gun lobbyists know that laws are only as good as the government's ability to enforce them. Hence their decades-old war on the ATF. As the Washington Post reported in 2010, "the gun lobby has consistently outmaneuvered and hemmed in ATF, using political muscle to intimidate lawmakers and erect barriers to tougher gun laws. Over nearly four decades, the NRA has wielded remarkable influence over Congress, persuading lawmakers to curb ATF's budget and mission and to call agency officials to account at oversight hearings."
The strategy has been effective: Multiple sources agree that today's ATF lacks the money, bodies, and operational latitude it needs in order to be effective. As Tim Murphy wrote in Mother Jones this January, ATF "has the same of number of agents as the Phoenix Police Department. Its budget has barely budged in decades (as the Department of Homeland Security has grown flush with post-9/11 funding). It has fewer investigators than it did in 1973."
Of course, a short-staffed, underfunded organization can still do great things—but not without a strong, secure leader to guide its strategy and inspire personnel. And that's why the ATF director's position has been in limbo for so long. For decades the ATF was a branch of the Treasury Department, but back during the George W. Bush administration, Congress announced that the Senate would now be in charge of confirming the ATF's leader. Since then, Senate Republicans have stalled every nominee, and the ATF has been forced to make do with a succession of interim directors. (Jones himself has been interim director of ATF since 2011.) And Jones would have almost certainly not have been sworn in today if the NRA hadn't unexpectedly decided to remain neutral on his confirmation, thus freeing certain senators to "vote for Jones without fear of political repercussions," as Dan Freedman put it in a piece for Hearst Newspapers' Washington, D.C., bureau this July. (The NRA has declined to explain its neutral stance.)
The bureau has most certainly suffered as a result of these tactics. The leadership vacuum has hindered the bureau's ability to perform its duties and evolve for the future. No matter how talented or inspiring an interim director might be, the "interim" tag means that he will have trouble building any sort of power base. The ATF is by no means a flawless organization. It has a history of recklessness—the Waco siege, Operation Fast and Furious—and inefficiency. But no organization can improve without good leadership, and good leadership rarely comes from interim directors who have no idea whether they're going to be sticking around. It's too early to say what sort of director Jones—a former Marine and U.S. attorney for Minnesota—will be. At least one former ATF agent told the Los Angeles Times that he was "the kind of leader that can make a difference." In any event, at least he'll be a leader, somebody who can feel secure in his job and act accordingly. I'm glad that B. Todd Jones was finally sworn in, and that the ATF can finally start moving forward. But it's an outrage and a shame that the bureau—and the nation—had to wait this long.
---