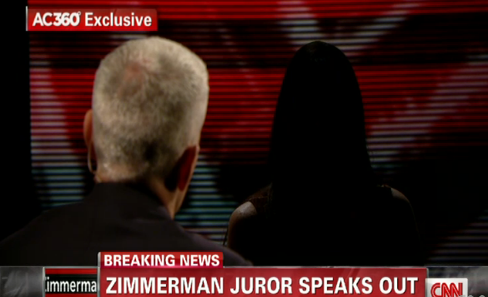 Juror B37 dominated her fair share of the post-verdict news cycle earlier this week with her since-aborted plans to write a book and her sit-down interview with CNN's Anderson Cooper, the first public (albeit anonymous) comment from any member of the six-woman jury who found George Zimmerman not guilty in Trayvon Martin's death. Late Tuesday, four of the other five women spoke out to say they won't be speaking out—and to make it clear that Juror B37 doesn't speak for them. Their full statement:

We, the undersigned jurors, understand there is a great deal of interest in this case. But we ask you to remember that we are not public officials and we did not invite this type of attention into our lives. We also wish to point out that the opinions of Juror B-37, expressed on the Anderson Cooper show, were her own, and not in any way representative of the jurors listed below.
Serving on this jury has been a highly emotional and physically draining experience for each of us. The death of a teenager weighted heavily on our hearts but in the end we did what the law required us to do.
We appeal to the highest standards of your profession and ask the media to respect our privacy and give us time to process what we have been though.
Thank you,
Juror B-51
Juror B-76
Juror E-6
Juror E-40
Their effort to distance themselves from their fellow juror comes after B37 told Cooper that she thought Zimmerman's "heart was in the right place," and that she had no doubt that he feared for his life when he shot and kill Martin.

She also shared a few details about what went on behind closed doors, including that a preliminary vote at the very start of the deliberations was split with three jurors—including B37—in favor of acquittal, two supporting a manslaughter conviction, and the other believing Zimmerman was guilty of second-degree murder. Given the numbers, that means at least one of the jurors who signed Tuesday's statement was on the same side as Juror B37 during the preliminary vote—although she obviously may have taken a very different path to reach that conclusion.
---