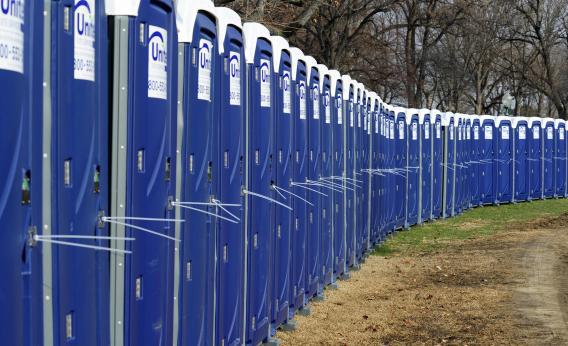 Crime is Slate's crime blog. Like us on Facebook, and follow us on Twitter @slatecrime.
"That's No Excuse" is an occasional series spotlighting unconvincing criminal alibis.
Name: Kenneth Webster Enlow
Alleged crime: Being a peeping Tom
The facts: Someday I fully intend to write a book titled A Brief History of Weirdos Who Hide Inside Toilets to Glimpse People's Bare Bottoms, and for Other Reasons of Sexual Gratification. When I write that book, I bet I'll devote least a page or two to Kenneth Webster Enlow, an Oklahoma man who was arrested Sunday after he was found covered in feces in the septic tank of a public toilet at a Tulsa-area park. Enlow was discovered when a woman attempting to use the toilet noticed a set of human eyes peeping up at her from the hole where waste goes. The woman screamed, the police came, and Enlow was extricated from the latrine.
"They sprayed him off with the front hose of the firetruck, and probably for a very good reason," a witness told a local TV station. "When he first came out, he was covered in defecation. Looked like he'd been down there for quite some time." After Enlow was hosed down, he was arrested on misdemeanor peeping Tom charges—no, you wisenheimer, not pooping Tom charges—which, in Oklahoma, can be brought against anyone caught skulking around or inside houses, locker rooms, or toilet stalls with "intent to watch a person in a clandestine manner." Newson6.com reported that Enlow "was also wanted in Okmulgee County for outstanding warrants on embezzlement and dumping trash," presumably on himself, while he was hiding inside a trash can hoping for a glimpse of a garbage man's ass crack.
The alibi: Enlow told police that it was all a misunderstanding—that his girlfriend had clubbed him in the head with a tire iron and dumped him inside the septic tank for some unspecified reason. He also says that he was struck unconscious, which is why he didn't scream for help or ask the woman who spotted him to come to his assistance.
Why this is a bad alibi: Oh, gee, where to start? When doctors examined Enlow, they couldn't find any welts, or bumps, or bruises, or anything else to indicate that he had been clubbed unconscious with a tire iron. But, to be charitable, let's say that Enlow's girlfriend did bop him on the head very, very softly, and that Enlow fainted in fright or something. There's no possible situation in which her next thought would be "Ha ha! Let's add insult to injury and drag this 6-foot, 240-pound man over to a filthy park bathroom and dump him inside a toilet. That'll teach him to drink all the cider!" If you find yourself inside the bowels of a latrine, staring up at the light filtering down through an open toilet seat, chances are you're there of your own volition. For more thoughts on this topic, you're just going to have to wait for the book.
Previous entries: The Angry Parishioner Who "Accidentally" Beat His Priest to Death With a Hoe; The Canadian Who Said He Was Framed for Attempted Murder by a Stranger Who Gave Him a Free Car.
---