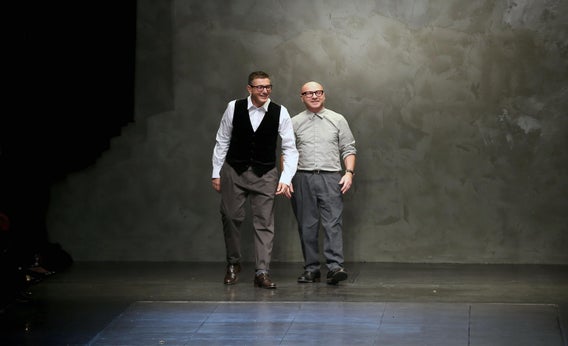 Crime is Slate's crime blog. Like us on Facebook, and follow us on Twitter @slatecrime.
On Wednesday an Italian court found fashion designers Domenico Dolce and Stefano Gabbana guilty of failing to pay almost $540 million worth of taxes on $1.3 billion in income, and sentenced them each to 20 months in jail. The two men were charged with selling their company to a shell corporation they'd created in Luxembourg to avoid paying Italian taxes, all the while continuing to run their business out of Italy. Even by Italian standards, this is pretty corrupt. But, by fashion industry standards, Dolce and Gabbana's scheme isn't anything out of the ordinary.
As Robin Givhan wrote for the Daily Beast last year, "It has become almost redundant to say that an Italian luxury-fashion company is accused of tax evasion. In fact, it would be faster to list the brands that, over the years, have not tangled with the tax authorities." The son of the founder of Gucci spent a year in prison for tax evasion in 1986. Roberto Cavalli was accused of using company cash to pay for his home renovations. In the mid-1990s, writes Givhan, "Giorgio Armani, Santo Versace, Gianfranco Ferre, Gerolamo Etro, and Krizia's Mariuccia Mandelli were all accused of paying off tax inspectors in exchange for more favorable audits."
Italian designers don't have a monopoly on white-collar crime. In 2002 American footwear mogul Steve Madden was sentenced to 41 months in prison on stock fraud charges. He served less than three years and remains the creative chief of the eponymous shoe brand. Earlier this year, the Ralph Lauren Corp. agreed to pay a $1.6 million fine after being charged with bribing Argentine officials in order to avoid customs inspections.
What's the common thread (get it??) through all of these incidents? A big one is that none of these brands seems to have suffered as a result of their alleged malfeasance. Sure, a couple of designers went to jail, but not for very long, and when they got out they were still absurdly rich fashion designers who could continue to work in the industry they didn't really disgrace.
Expect the same for Dolce and Gabbana. The prison sentence will be suspended pending an appeal; NBC News is even reporting that the two men won't ever have to serve time, as long as they maintain clean records for the next five years. Though information on this next point is scarce, and I expect they'll have to repay some of the money they withheld, I'm sure they'll retain enough to live fabulous jet-setting lives. And it's a given that the fashion industry won't be bothered by Dolce and Gabbana's conviction: Earlier today, before the verdict came down, Vogue UK ran a gushing item under the headline "Dolce And Gabbana To Make Latin Lovers Out Of English Men," pegged to the opening of a new Dolce & Gabbana flagship store in London. Tax fraud is old hat. Looking good is forever.
---