Yesterday's devastating tornado in Oklahoma spun through the heart of "Tornado Alley." In 2011, Explainer asked how and when this region got its name, especially since some of the deadliest tornadoes take place outside its boundaries. The original story is below.
A fearsome twister hit the town of Joplin, Mo., on Sunday night, killing more than 100 people and becoming one of the deadliest of its kind in U.S. history. That's despite that fact that Joplin sits outside the traditional boundaries of Tornado Alley, a flat expanse of land in the Midwest where most such events occur. We've had to deal with tornados for a long time, but when did we first start talking about "Tornado Alley"?
In 1952. On Feb. 15 of that year, two officers of the Air Force's Severe Weather Warning Center set up  a project they called "Tornado Alley" to monitor twisters in an area from Lubbock, Texas, to Colorado and Nebraska. (The same officers had been responsible for making the first successful tornado forecast in 1948 and issuing the first official tornado warning in modern history.) The phrase earned its first mention in the New York Times on May 5, 1957, in an article that called the region "the incubator of nature's deadliest storms." Google's corpus of books shows a slow increase in "Tornado Alley" starting in the early 1950s.
The phrase has generally been used to describe a wide strip of tornado-prone regions that most often includes parts of northern Texas, Oklahoma, Kansas, and Nebraska as its core. In 2003, researchers at the National Severe Storms Laboratory in Norman, Okla., proposed a more objective definition. The alley, they suggested, should refer to the part of the United States where tornadoes hit most often—at least once every two years for each 50-mile-square patch of land—and keep a predictable seasonal schedule. According to their technical criteria, Tornado Alley stretches from the southern end of the Texas Panhandle up and over through the midriffs of North Dakota and Minneapolis, not strikingly different from the traditional definition but delineating more detailed boundaries. The same analysis also reveals a second tornado-prone region, isolated from the rest of the alley, near the southern tip of Lake Michigan.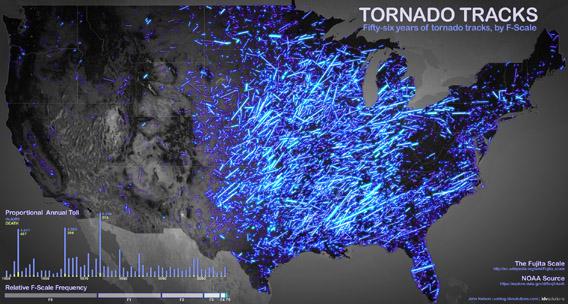 Tornados may be plentiful in Tornado Alley, however it's defined, but they're not as deadly as those that touch down elsewhere. In fact, all three states with the greatest density of tornado deaths—Mississippi, Alabama, and Arkansas—lie outside most definitions of the Alley. Why? A recent study  attributed the high rate of tornado deaths  in the interior southeastern and south-central United States—a region that's been dubbed "Dixie Alley"—to a mix of climatological and sociological factors. Most of the tornadoes there strike at night, early in the season, and in tree-heavy areas—factors that make a disaster more dangerous by on account of its being unexpected. People in those areas may also be more vulnerable to tornados because they're older and more likely to live in mobile homes.
Explainer thanks Harold E. Brooks of National Severe Storms Laboratory.