Barack Obama, earlier today:

Journalists should not be at legal risk for doing their jobs. Our focus must be on those who break the law. That is why I have called on Congress to pass a media shield law to guard against government over-reach. I have raised these issues with the Attorney General, who shares my concern. So he has agreed to review existing Department of Justice guidelines governing investigations that involve reporters, and will convene a group of media organizations to hear their concerns as part of that review. And I have directed the Attorney General to report back to me by July 12th.
Mike Isikoff,
a few hours later:
Attorney General Eric Holder signed off on a controversial search warrant that identified Fox News reporter James Rosen as a "possible co-conspirator" in violations of the Espionage Act and authorized seizure of his private emails, a law enforcement official told NBC News on Thursday… The law enforcement official said Holder's approval of the Rosen search, in the spring of 2010, came after senior Justice officials concluded there was "probable cause" that Rosen's communications with his source, identified as intelligence analyst Stephen Kim, met the legal burden for such searches. "It was approved at the highest levels– and I mean the highest," said the law enforcement official.
I spot a tiny problem here. Holder signs off on the Rosen warrant. He recuses himself, but has no stated problem, with the warrants for AP phone records. Since when does he "share a concern" about these sorts of dragnets that pull in the communications of journalists? I was a little remiss earlier in only naming four Obama punts of responsibility to the Congress. Asking for a shield law is a punt, too. What's preventing the administration from asking an IG to look into the DOJ's practices – I mean, besides the likelihood of returning a pile of redactions? The story's elevated by the play HuffPost is giving it.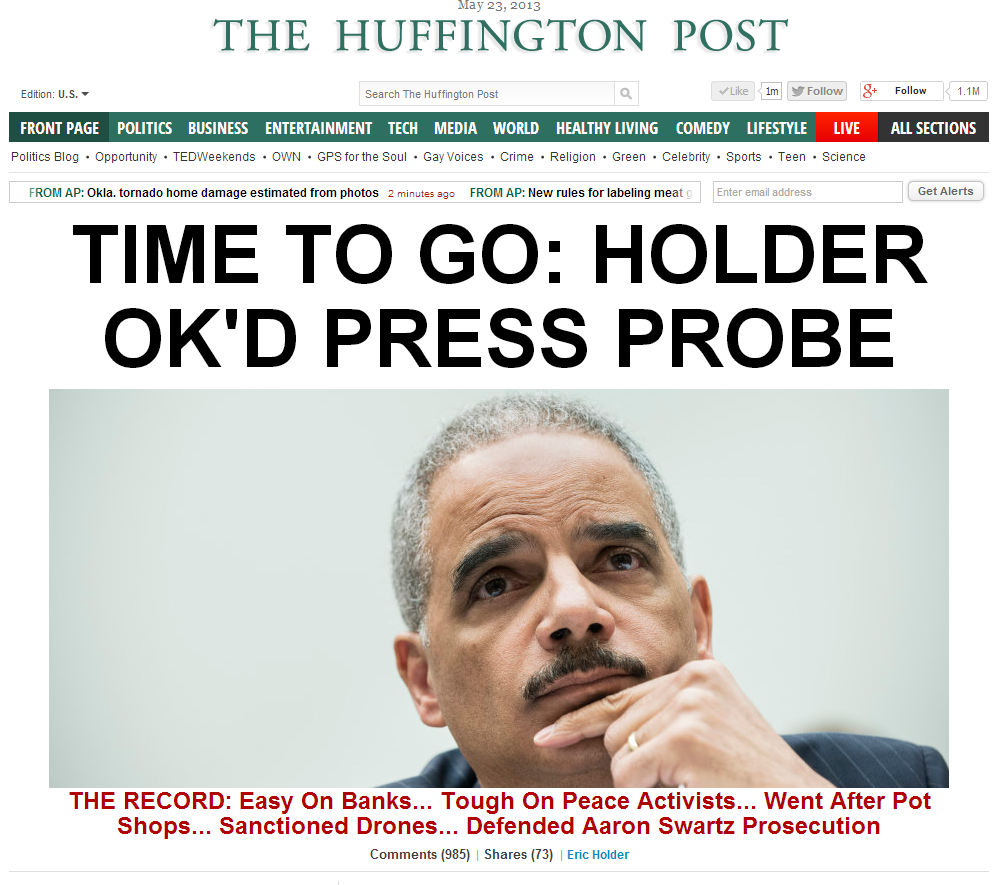 Read the subheds, conservatives – the liberal beef with Holder pre-dates this story by roughly four years. But HuffPost had some luck in its frontpage-shaming of Democrats who didn't endorse gay marriage, didn't it?