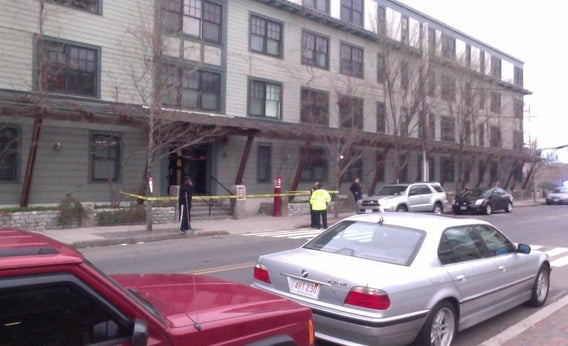 CAMBRIDGE, Mass.—Authorities might not yet know where Dzhokhar Tsarnaev is, but they certainly know where he was: 410 Norfolk Street. The apartment he shared with his brother, Tamerlan, in an ethnically mixed section of Cambridge, is being watched by dozens of police officers and other law enforcement personnel. Both ends of Norfolk Street between Cambridge Street and Webster Street were cordoned off for hours, as police mulled whether to initiate a controlled detonation of some explosive devices possibly still inside the building. (The police now say there's no need for controlled explosions.)
As police guard the entrance to the Norfolk Street residence, which is marked by some sort of blue tarp over the entrance, reporters, onlookers, and the suspects' neighbors wait forlornly outside.
"I've been out here since 8:00," said Brian McCarthy, a resident of 432 Norfolk Street, a large, four-story building a couple doors down. This morning, police told McCarthy and his neighbors to vacate the building, immediately. "They went door to door telling people they had to get out," he said. "I had time to grab my jacket, my phone, my wallet. But they didn't seem like they were willing to wait around." McCarthy, who was wearing what looked like tuxedo pants, had been displaced since then. As a light mist started to fall, he slipped on the hood to his green jacket. He looked exhausted. "It's been a long day," he said.
McCarthy couldn't recall any interactions with either of the Tsarnaevs. But another neighbor, a man with a black leather jacket and tinted eyeglasses named Adam (he wouldn't provide his last name) remembered a not-so-mindblowing recent encounter with Dzhokhar. Two weeks ago, while waiting in the driveway for pizza delivery to arrive, Adam and some friends saw him come down Norfolk Street on a bicycle. "My friend made a comment about his bike. It looked kind of cheap," he remembered. "It was rattling. My friend said 'Someone needs to have that bike fixed.' "
Other than the rattling bicycle incident, Adam couldn't recall any interactions with the Tsarnaevs, or recall anything that would have marked them as suspicious characters. (I guess it's a bit of a leap from "that kid has a cruddy bicycle" to "that kid will soon be a mad bomber.") "They've been saying for hours they're going to have a controlled detonation," said Adam, as he sat on a rock across the street from his building. If the police are going to do anything, he hopes that it happens soon, as he is itching to return to his building and play a new video game he just purchased. "All I want to do is to just go into my unit and play that. Tell me when it's over and I'll come out," he said. "All I want is to not worry."
---