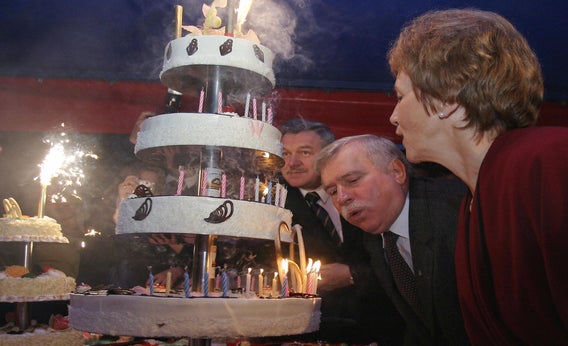 Crime is Slate's crime blog. Like us on Facebook, and follow us on Twitter @slatecrime.
Name: Ruth C. Amen
Crime: Grand theft; scheme to defraud.
Fatal mistake: Letting birthday cheer overcome her better judgment.
The circumstances: Pop quiz, hotshots. You're an office manager who has allegedly embezzled almost $200,000 of your company's money, and there's no reason to think you'll be caught any time soon. Do you a) take the utmost care to attract as little attention as possible to your creative bookkeeping schemes, or b) throw caution to the wind and surprise your boss with a lavish birthday bash that you paid for with the misappropriated cash? What do you do? What do you do?
According to Florida's Lee County Sheriff's Office, Ruth C. Amen chose option b, thus giving herself the mother of all reasons to regret what happened at the office party. Amen, an office manager at Gulf to Bay Realty in Boca Grande, Fla., is accused of using unauthorized company funds to pay for the party she threw for her boss. This led to a review of Amen's accounting practices, and the startling news that she had allegedly embezzled $181,674 from the business, which will buy you a lot of crepe paper and miniature cupcakes. She's been charged with two felonies, grand theft and scheme to defraud.
Most of the office parties I've attended have been low-budget affairs, but I imagine this one must have been pretty swanky to attract the accounting watchdogs' attention. I understand the desire to impress your boss with a big, thoughtful gesture. You know what's a better way to impress your boss, though? Not stealing $181,674.
How she could have been a lot smarter: She could have just sent a card. A humble greeting card will never trigger an accounting review, unless you sign that card "From your favorite embezzler."
How she could have been a little smarter: So you want to throw an office party. Fine. Limit your ambitions. Don't buy a fancy cake. Buy an Entenmann's cake. If you really want to splurge, buy two Entenmann's cakes.
How she could have been a little dumber: "Happy birthday, here are 50 Entenmann's cakes!"
How she could have been a lot dumber: "And here's John Cougar Mellencamp to help you blow out the candles!"
Ultimate Dumbness Ranking (UDR): This was very, very dumb. And you know what's the worst part? Nobody even likes office parties! Amen got herself arrested for the sake of some awkward small talk around a cubicle filled with Koosh balls. 8.5 out of 10 for Ruth C. Amen.
Previous Dumb Criminals of the Week: The Painfully Insecure Bank Robber, The Brazilian Transvestite Who Hid Cocaine Inside His Prosthetic Butt, The Pimply Guy Who Stole a Bunch of Bus Transfers, The Naked Guy Who Really, Really Loved Cocaine,The Guy Who Tried to Outrun the Cops on a Very, Very Slow-Moving Moped, The Drunk Driver Who Boasted About It on Facebook, The Guy Who Brought 32 Bags of Weed into a Courtroom, The Drug Smuggler Whose Fake Breasts Were Made of Cocaine, The Guy Who Gave the Cops an Absolutely Terrible Fake Name, The Job Candidate Who Told the FBI about His Child Porn Stash
---