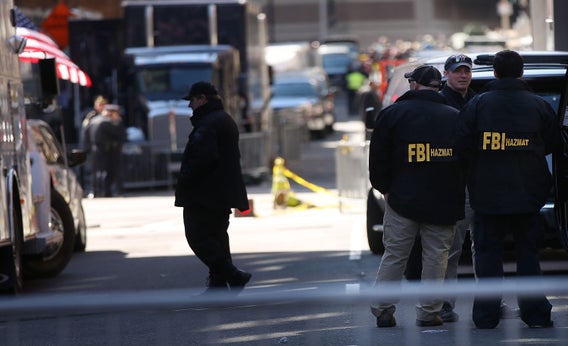 Crime is Slate's crime blog. Like us on Facebook, and follow us on Twitter @slatecrime.
After a day's worth of false starts and bad information in the coverage of the Boston Marathon bombings, reporters have learned that there is indeed video footage of two potential suspects. According to the Boston Globe, "two suspects were seen separately on videotape—one at each of the two bombing sites, which are located about a block apart." The Globe adds that "the best video has come from surveillance cameras on the same side of Boylston Street as the explosions," according to the paper's source, "an official briefed on the case." And the New York Times, which agrees with the Globe's account, says, "Law-enforcement officials … had not yet decided whether the authorities will release the images and appeal to the public for help, but the person said it was 'more likely than not' that they would."
Why wouldn't law enforcement immediately release the photographs to the public? Gregory D. Lee, a longtime supervisory special agent for the DEA and now a criminal justice consultant, notes that it's possible the video footage isn't the FBI's best or only lead. "To me, there's something behind the scenes that they're working on," says Lee, noting that the agency might be waiting to see whether these other leads pan out before deciding to release the footage. James J. Wedick, a former FBI agent who now offers his services as an expert witness and consultant, tells me the feds could be wary of alerting a potential suspect that they're onto him, which might cause them to flee or destroy evidence. Lee agrees. "If they do have a genuine photo of the suspect, and they think they know who he is, the last thing they want is to let [the suspect] know you know who he is," he says.
There's also the danger that, by releasing the footage, law enforcement could be inundated with leads from the public, most of which would be bad ones, all of which would take time and effort to investigate. When you ask the public to analyze a photograph, you're effectively asking them to play detective. This can lead to a bunch of bored, excitable people calling in with useless tips that just serve to impede the progress of the investigation. All things being equal, law enforcement would prefer not to have to deal with thousands of phone calls from bored, excitable citizens.
Wedick also believes the FBI could be looking for a way to avoid blowback if the photos turn out to be a false alarm. Yesterday afternoon, citing information from anonymous law enforcement sources, CNN and other outlets reported that authorities had arrested a suspect in the Boston Marathon bombings—a "dark-skinned male" who was expected in court any second. The information turned out to be false, and was a huge embarrassment for CNN in particular. But it was also an embarrassment for the agencies handling the investigation. "I know they're not happy when everybody starts releasing all this information that turns out to be bogus," says Lee. Now, perhaps they're wary of spreading more unconfirmed, potentially erroneous information.
That being said, it's unlikely the security camera footage is being kept under lock and key. Lots of different law enforcement agencies are currently involved in the investigation, and they're all working in conjunction. But if the FBI can't identify the people in the photos on its own or with the help of other agencies, it will have no choice but to release the photos. "If whatever they're doing does not pan out, then they'll definitely release the photos. There's no question about that," says Lee. And if that happens, Wedick believes the bureau would regret not doing it sooner: "And so next week, when you ask, 'So what were we trying to accomplish by not releasing them?' it'll be one of those answers, 'Well, that didn't really make much sense.' "
Read more on Slate about the Boston Marathon bombing.
---