Kathleen Hunt, 47, Boston

At the start of the race, runners can check personal items in bags that they later pick up in the finish area. After the explosions the course was closed. Hundreds of runners who hadn't yet finished became separated from their bags. Many of these runners were stranded with no phone or warm clothes.
Around 9:15 p.m. Kathleen was one of a small group of five to eight volunteers left in the bag claim area. "I came over here and found these guys desperately moving bags." The volunteers were sorting hundreds of unclaimed bags by their bib numbers.
I can't do anything for the victims, so I've been trying to help runners.
I've been volunteering and watching since 1977. I grew up at mile 25.
It was my first time volunteering in the finish area. I was handing out Gatorade and water to runners crossing the finish line.
I heard a huge, thunderous boom—it was different than anything I've heard before. There was a bit of a panic. Some runners and volunteers started to run.
Soon, a cop said, "As fast as you can, get all of that Gatorade and water out of the way, so the ambulances can get through." There were only about seven volunteers left in the area. Up to that point, spectators hadn't really entered into the finish area. Some people saw us moving stuff and they jumped over the fencing and helped us.
There were runners who couldn't find their clothes, who didn't have their phones, who couldn't find their families. I helped runners for around two hours.
They canceled the rest of the race. I heard they took a couple hundred people who were still on the course to Boston College, on buses. We're waiting here for them to pick up their bags. We're going to be waiting here all night.
It reminded me how important it is to memorize a few phone numbers.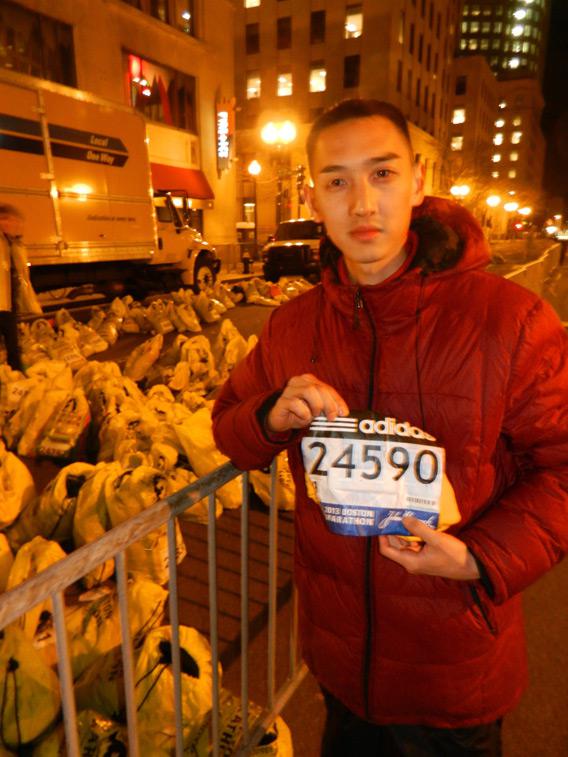 Moon Lee, 28, Boston

I was at Heartbreak Hill when I heard. They stopped us.
I'm from around here, so I called my parents.
I came downtown to get my bag. My ID, phone, and the keys to my apartment are in the bag.
The race volunteers couldn't find his bag.
I'll stay with Mom.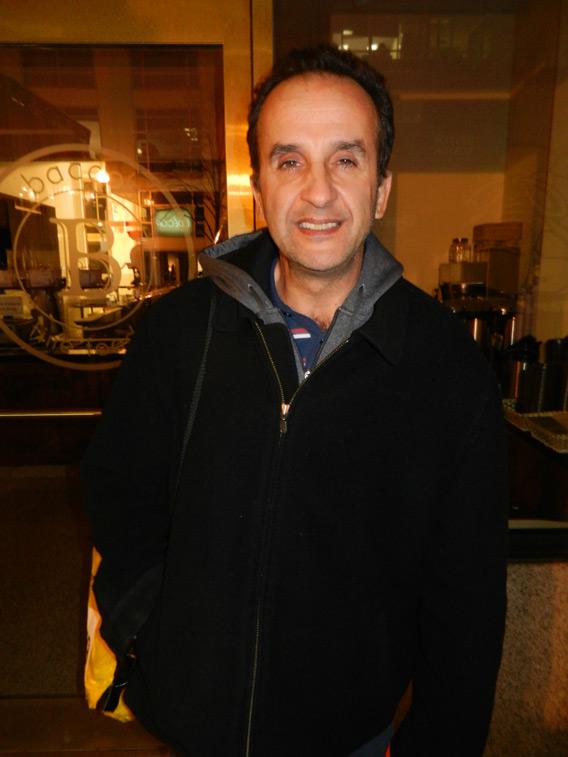 Eduardo Kelly, 53, Hingham

It's my second marathon. I was running for the Liver Foundation.
I was about eight blocks from the finish when they stopped us. About a half mile away. They told us the course was closed.
We were freezing our asses off for about 45 minutes, and we didn't have any information. We didn't know what was going on. I didn't hear anything. But after I knew what was happening, I understood.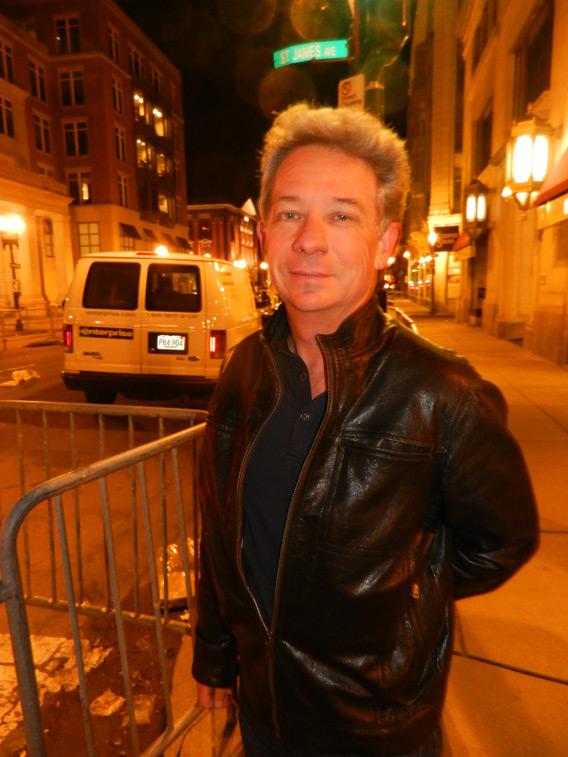 Bill Bayers, 58, Belmont

My office faces the run-off, after the finish line. I had just got back from lunch and was looking out the window thinking, "Wow, look at all the people."
I heard the explosion and looked up the street. About 25 percent of the people started running. Some people were oblivious and were still grabbing bananas.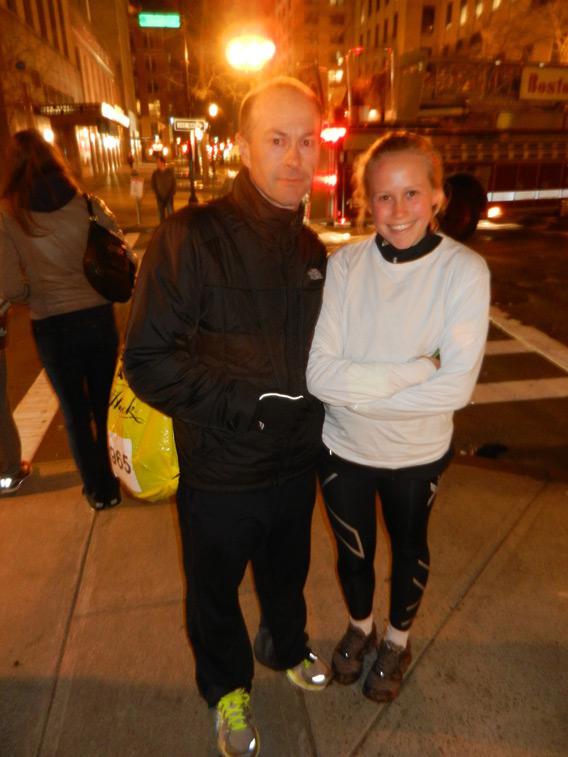 Matt Phillips, 46, and Annabel Phillips, 15, Melbourne, Australia

I was just about to turn the last corner on to Boylston. The police stopped me. I saw dust and I knew what had happened immediately.
Matt was supposed to meet his daughter Annabel at the finish.
It took us about two and a half hours to find each other. I didn't have my cellphone and I couldn't get to my bag or the finish area. Eventually, someone helped me with their phone. I was worried because Annabel had a pass to sit in the bleacher area at the finish. I posted a message on Facebook about where I was.
Annabel found him shortly afterward.
If you know Mark Zuckerberg, thank him for me.
A restaurant [Town] gave me a tablecloth to keep warm, and food. A guy in the restaurant came up to me, in shock. He was also covered in a tablecloth. He was holding a piece of PVC pipe. He said, 'This just hit me.'
People have been amazing. Thank you Boston, from Melbourne.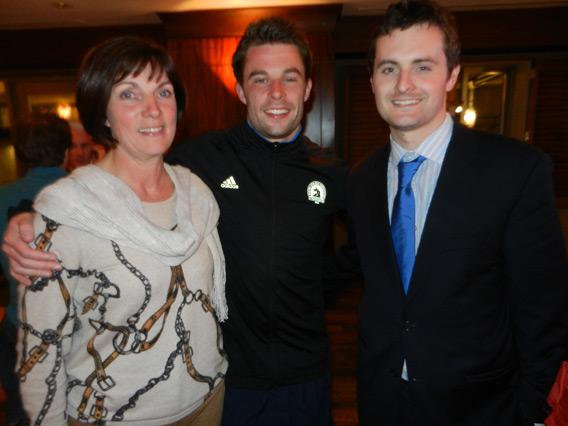 Paula Carr, Navan, County Meath, Ireland; Shane Carr, 24, Dublin, Ireland; and Ciaran Delargy, 24, Boston

For most of the race, Paula was waiting near the finish line in front of Marathon Sports, where the explosions later detonated. She was waiting for her son Shane to finish.
We had been standing at the finish line for three, three and a half hours. The people around us were so nice. There was a little boy sitting on his father's shoulders, sucking on his thumb. He was adorable.
Shane finished about nine minutes before the explosion. He was getting water and a blanket in the finish area. My sister and I started walking back toward the finish area, and we heard the first explosion. I said, "Theresa, that's a bomb." She said, "No." After the second explosion we knew what had happened. We were a couple hundred yards away. And it was chaos.
A sports store invited us into the store. They said, "Stay inside, we're going to lock the doors. You'll be safe."
I keep thinking, "If Shane had been 3 minutes later …"
Read more on Slate about the Boston Marathon bombing.