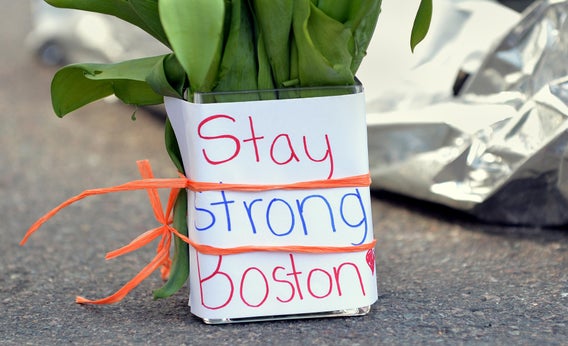 BOSTON—Boylston Street is entirely closed to traffic today, 24 hours after two bombs exploded near the finish line of the Boston Marathon. One block away, the city's premier shopping street is gradually returning to normal. Newbury Street, lined with mediocre restaurants and expensive boutiques, is still emptier than usual. Reporters, photographers, lithe men and women in runners' jackets, and curious locals walk the street from Arlington to Mass Ave, pausing at every intersection, attempting to peer past the barricades toward Boylston and the scene of the crime. "I couldn't sleep at all last night," says a woman in pink running shoes at the corner of Boylston and Exeter, where all you can see of the previous day's destruction is a dozen police officers and a metal "R" hanging perilously off the sign of a shoe shop called the Tannery.
Newbury is filled with restaurants with outdoor patios, and many of them are open and serving lunch to a largely out-of-town clientele. Some stores are closed and some are open, and it's sometimes unclear why which is which. Nordstrom Rack is closed, but H&M is open. Victoria's Secret is closed; a handwritten sign on its front door reads "Store Closed Due to Explosion on Boylston. Please leave area." AllSaints Spitalfields clothing store is open, though only two customers are inside. "I actually called the mayor's office to see if it was OK, and they said 'Yeah, Newbury Street should be open,' " the store manager tells me. "I figured my boss in New York would be upset if I didn't open." The Sunglass Hut is open, too, and the man behind the counter is surprised that so many other businesses are closed.
Three police officers in tan pants and green reflective vests stand in a line outside the entrance to 116 Newbury, a stone building containing offices, a clothing store, and the Jean-Pierre hair salon. It's the only building on the strip that's being guarded like this, and I can't help but assume the worst. Is the building somehow related to the investigation? No, say the officers, who are actually police academy recruits. "We're just standing here. We'll move somewhere else in 15 minutes," one says. "We're just out here for 'presence.' Nothing to be worried about."
Read more on Slate about the Boston Marathon bombing.
---