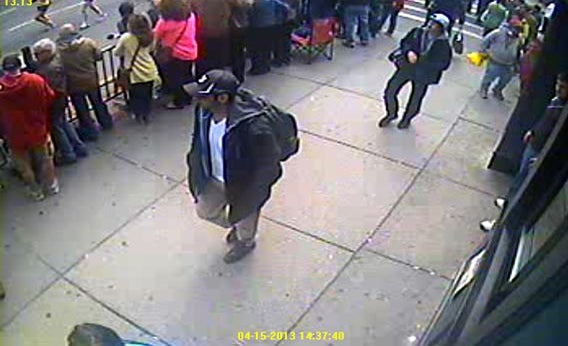 On Thursday afternoon, the FBI released images and video footage of two men who have been deemed suspects in the April 15 Boston Marathon bombing. In a press conference, FBI Special Agent Richard DesLauriers encouraged the public to review the images and footage, and to visit a special website, bostonmarathontips.fbi.gov, if they had any information that might be useful in identifying the suspects. They're hoping that people do so out of the goodness of their own hearts: While a group of Boston public safety unions have joined to offer a $50,000 reward for information leading to the arrest of the culprits, the FBI, at least so far, has not offered up any cash. Why?
They likely feels there's no need. Offering a big cash reward is a great way to raise publicity, and to encourage people to be extra aware and observant. But the Boston Marathon bombings are already getting tons of publicity—every major news organization in the country, if not the world, seems to have a representative here. And the public has shown itself more than willing to volunteer its time and effort to help identify the suspects. (A spokesperson was not available this evening to provide an official explanation of the FBI's thinking vis-à-vis reward money. I'll update this post when/if I get that explanation.)
A 1991 paper in the American Journal of Police titled "Rewards by Businesses for Crime Information: The Views of Law Enforcement" pointed out another potential downside. While cash rewards can help law enforcement officials elicit information that might otherwise be withheld, "in some instances, the setting of rewards may prove more trouble than it is worth. The major disadvantage seems to lie in the expenditure of time and effort on fruitless leads." That's a concern for the FBI, which is already fielding thousands of tips from concerned citizens, most of which won't pan out. At this point, offering money for info would likely make the signal-to-noise ratio even worse.
If, after a few days, the FBI still doesn't have any good leads, then they might sweeten the deal by offering some cash. If so, you can expect the reward to exceed the $50,000 currently being offered by the Boston unions. As a 2011 Slate Explainer piece reported, the FBI parcels out rewards mostly based on the notoriety of the fugitives. "The FBI's 56 field offices decide which fugitives need price tags and can set the bounty themselves up to $20,000," wrote Jeremy Singer-Vine. "If they believe more money is needed, they must get approval from FBI headquarters; rewards of $250,000 or larger also require the attorney general's support." The suspects in a horrible, world-famous bombing would certainly qualify as "notorious." And I doubt the attorney general would stand in the way of a greater-than-$250,000 reward. We'll just have to wait and see whether the FBI thinks it would pay off to do so.
Read more on Slate about the Boston Marathon bombing.
---