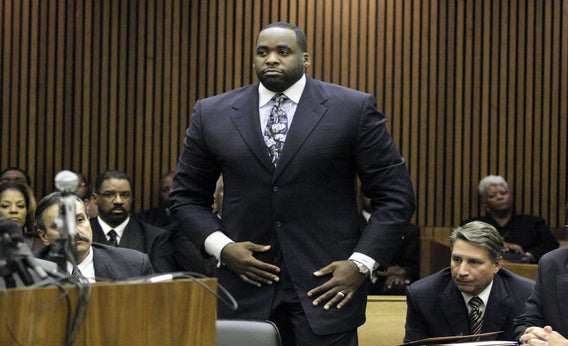 Crime is Slate's crime blog. Like us on Facebook, and follow us on Twitter @slatecrime.
This morning, former Detroit mayor Kwame Kilpatrick was convicted in federal court on 24 of 30 corruption-related counts, prompting an entire nation to frown, shake their heads in disbelief, and say "Wait, Kwame Kilpatrick is on trial again?" America's Most-Prosecuted Ex-Mayor had been charged with a spectrum of bad-government offenses: bribery, tax evasion, extorting contractors hoping to do business with the city, raiding the nonprofit Kilpatrick Civic Fund for his personal expenses. He's facing up to 20 years in prison.
If this story sounds familiar, that's because it is. Kilpatrick has been in almost continuous legal troubles since disgracedly leaving office in 2008. As former New York Times and Detroit News reporter Charlie LeDuff put it in a column last fall, "Kwame Kilpatrick is like a foot wart. No matter how many times you cut it away, it spreads. In his recent book Detroit: An American Autopsy, LeDuff depicts Kilpatrick, the son of a powerful political family who was first elected mayor at age 31, as an entitled, overmatched coward who drained city coffers while disparaging his critics as racists who wanted to see him fail.
Fail he did. In March 2008, in the wake of an embarrassing sexting scandal, Kilpatrick and an aide were charged with perjury and obstruction of justice, among other things. In August 2008, he was charged with assaulting a police officer who was attempting to serve a subpoena. In September 2008, Kilpatrick resigned his office and was sentenced to four months in jail. He served 99 days before being released on probation; in 2010, he was returned to jail after violating that probation. After being indicted on federal corruption charges that same year, Kilpatrick transferred to a federal prison; in 2011, he transferred back to state prison. He was paroled in 2011. Now, he's on his way back to federal prison. Eat your heart out, Buddy Cianci.
I assume that, to some extent, kickbacks and misappropriations are common in lots of big city mayoral administrations. The difference here seems to be Kilpatrick's sheer ineptness. The concepts of "plausible deniability" and "delegating illegal tasks to subordinates" seem to have never occurred to him. "His former high school pal and top aide Derrick Miller said he passed along to Kilpatrick a $10,000 bribe in a toilet stall," writes LeDuff. "Karl Kado, a former contractor, said he gave bribes to Kilpatrick in brown paper bags." We expect our mayors to be at least somewhat corrupt, but we also expect them not to be embarrassingly bad at it. If you don't know enough to designate fall guys and middlemen before you start accepting bribes, then you deserve every prosecution that comes your way.
---