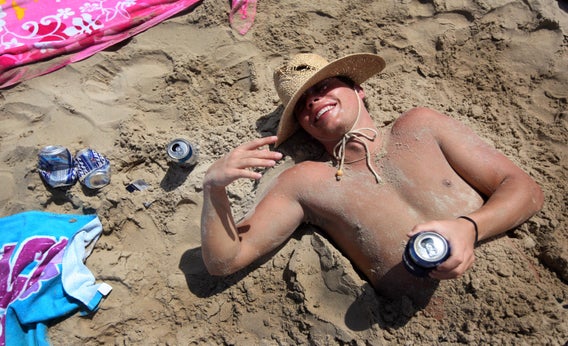 Crime is Slate's crime blog. Like us on Facebook, and follow us on Twitter @slatecrime.
So I had planned to do a week's worth of posts on spring-break-related crime, but I never got around to it, mainly because I've been too busy pounding Jagerbombs and baring my breasts for beads and/or money. That's spring break for you, though: it never turns out how you'd expect. You head to Florida hoping for some debaucherous fun in the sun, and end up cuffed to a rail in a police station for accidentally setting your hotel room on fire. We've all been there.
But before the sun sets on Spring Break 2013, I did want to mention this one interesting crime-related story out of Panama City Beach, Fla. For police departments in southern coastal regions, spring break is a hellish month's worth of property damage, Red Dog vomit, and belligerent teenagers yelling. But it's equally bad for courts, which see their dockets overflow with minor cases that end up being very difficult to resolve, largely because the defendants find it more expedient to flee the state than to face the charges against them. So what's the solution? Let lawlessness reign? Assign more cops to the Señor Frog's detail? Deputize a bunch of back-talking bounty hunters to hunt down open-container scofflaws and bring them to justice?
For Panama City Beach, the answer is Spring Break Court, a concept that will surely become an A&E reality show by the time I hit publish on this blog post. This year, Judge Joe Grammer ran a month-long pop-up courtroom on the fourth floor of the Majestic Beach Resort, where he gave spring breakers accused of minor offenses the chance to resolve their cases quickly. The defendants were given three options: plead guilty; plead not guilty and have the case moved over to a real courthouse; or enter the State Attorney's Diversion Program, complete some community service, and have the charges dropped. As S. Brady Calhoun reports in his fantastic article for the Panama City News Herald, every single participant chose to enter the Diverson Program.
This is a great example of a smart solution to a small but persistent problem. Spring-break crime might seem inconsequential, but it's a big strain on local justice systems. As an assistant state's attorney told WMBB-TV, "We see about a 50-75 percent [crime increase] in about a 2 to 2.5 month period which falls primarily on the court system." It costs money to try all these cases and to track down vanished defendants. I applaud Grammer and his colleagues for taking an imaginative approach to clearing a bunch of cases all at once.
Did the defendants learn any lessons from the Spring Break Court experience? That's hard to say. The News Herald's Calhoun interviewed a few, and none of them seemed to show any remorse:
One said she was underage and holding a beer for a friend when the police charged her with possession.
Another said he was with a group of people, one of whom was drunk and started acting out in a gas station. By chance, he, the only member of the group who was underage, happened to be holding the case of beer they were buying and he took the possession charge, he said.
I guess "blame it on an unnamed friend" is a valuable life lesson after all. Yeah! Spring Break!
---