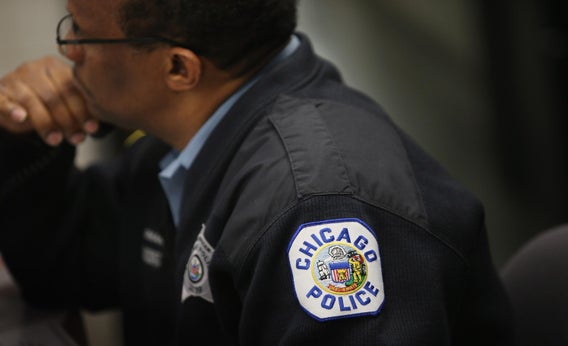 Crime is Slate's crime blog. Like us on Facebook, and follow us on Twitter @slatecrime.
When 43 people were killed in Chicago this January, the city's murder problem looked like it was going from bad to worse. I was surprised, then, to learn that the Chicago Police Department reported only 14 homicides this February—half as many as last February, and the city's lowest single-month total since 1957. Police superintendent Garry McCarthy credited the drop to his decision to flood so-called crime "hot zones" with extra officers pulling overtime shifts, combined with pre-existing "area saturation teams" assigned to various high-crime districts. "This is modeled on something I created in New York," McCarthy told reporters. "This is an evolution."
Some observers have noted that this saturation strategy looks strikingly similar to another tactic that McCarthy has rejected. McCarthy's predecessor, Jody Weis, relied on groups called "Mobile Strike Force" and "Targeted Response Units"—specialized squads that were deployed across the city—to combat gang violence. These units were effective but controversial. "For some communities, aggressive cops, known as 'jump out boys,' represented the worst of the department," wrote Noah Isackson in a 2012 Chicago magazine profile of McCarthy. "Revelations in 2006 that some officers robbed and kidnapped residents, and the accusations a year later that one officer plotted to murder another, bolstered that point of view," Isackson continued.
Interim superintendent Terry Hillard started to disband those units in 2011. When he took office later that year, McCarthy finished the job, scattering those officers throughout Chicago's various police districts. Since then, the city's murder rate has risen, from approximately 433 homicides in 2011 to approximately 506 in 2012.
McCarthy was hired in 2011 by Chicago's technocratic new mayor, Rahm Emanuel, largely because of his interest in fighting crime via data analysis and community policing. "I have this big-picture idea about the next phase of community policing in this world," he told Chicago, describing a world in which connecting residents with social services is as much a police function as arresting gangbangers.
McCarthy's new murder-stopping strategy incorporates elements of both data analysis and community work. The cops in the MSF and TRU units had no real relationships with or responsibility to the neighborhoods where they were deployed, and some say that, as a result, they tended to treat everyone they met like a potential criminal. Saturation policing, by contrast, uses data to identify high-crime areas, but deploys cops who are still theoretically accountable to the districts they're serving.
The trouble is that this strategy forces the CPD to open the overtime faucet, which the cash-strapped city can't afford to do indefinitely. (Chicago faces a $300 million budget deficit.) Many of the decisions the department has made over the past few years can be traced back to budget woes. In 2012, the CPD closed two district stations and reassigned more than 300 detectives in an effort to cut costs. This February, McCarthy announced that, because of budget reasons, the department would no longer immediately respond to 911 calls for non-violent crimes.
When Rahm Emanuel was running for mayor, he promised that, if elected, he would put 1,000 new police officers on the streets. After taking office, he realized there wasn't enough money to hire 1,000 new cops, so he met his promise in other ways, like getting rid of specialized units like the MSF and TRU and assigning those officers to walk beats.
Everyone likes the idea of more beat cops. But, in the short term, beat cops can't do jack to stop a murder epidemic. Chicago knows where its murders are coming from—in his profile of McCarthy, Noah Isackson wrote that "according to the CPD, gangs commit three-quarters of the city's homicides." And the city also knows that the specialized units, while controversial, are evidently effective in stopping murders. (Former CPD superintendent Jody Weis told Isackson that "the city's sub-500 murder totals in 2009, 2010, and 2011 were a direct result" of those units.) It doesn't take a genius to figure out what will happen when the money for overtime runs out, and these so-called hot zones go back to being monitored by surveillance cameras and beat cops.
Emanuel and McCarthy are playing a tricky game here. On the one hand, they're focused in the short term on cutting down the alarming amount of murders in Chicago. On the other hand, they see the long-term benefits of building a police department that is not at odds with the communities it serves. In theory, these two objectives aren't opposed to one another. In a cash-strapped city, though, I don't think you can have a stat-focused police department that's also community-focused. Which is more important? Sooner or later, Chicago is going to have to choose.
---