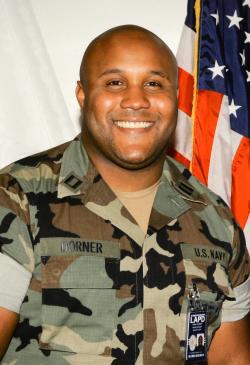 In February, Los Angeles mayor Antonio Villaraigosa announced a reward for information leading to the arrest and conviction of fugitive Christopher Dorner, the murderous ex-LAPD officer who was thought to be targeting cops for death. More than 25 municipalities and civic organizations contributed to the pot, and by the time Dorner's body was found on Feb. 15, the reward stood at $1.3 million. Now, with Dorner dead, CBS This Morning reports that various donors are trying to renege on paying the reward money.
According to CBS, the town of Riverside, Calif., is withholding the $100,000 it promised to add to the general pot. (Other unnamed donors are also reportedly withholding their donations.) Riverside mayor Rusty Bailey, in a tremendously tacky display of budgetary hair-splitting, maintains that the reward was offered for information leading to Dorner's arrest; since Dorner was killed before he was arrested, the reward is no longer in play. If that explanation doesn't fly, look for the mayor to follow up by explaining that he actually meant to contribute a 100 Grand candy bar, not real money, and, anyway, his fingers were crossed when he made the pledge.
So who should get the reward money? There are a few different people claiming it—one man who was carjacked by Dorner; a couple whom Dorner tied up in a cabin—and, honestly, none of them really have a great case to collect. As a Los Angeles Times story put it today: "Some find the claims for the money unseemly. They believe reward seekers had called police to report they were victims of crimes by Dorner and now seek to profit from their brief encounters, which left them unharmed, during a rampage that devastated the families of police officers and of others he killed."
I agree that "being a crime victim" is not the same thing as "being a third party who comes forward with a tip." But the reticence here still looks bad. CBS correspondent John Miller, a former assistant director of public affairs at the FBI, pinpointed the problem with the donors' cheapness:
When you offer a $1 million reward and you say to everybody who ever leads to this capture is going to get it, there's a credibility issue here, which is, you don't want the next time you offer a $1 million reward for people on the other end to say, "Well, they might pay it, or they might not." So they shouldn't have to pay this reward, but they should pay it for the credibility of the reward process.
I wholly agree. Look, maybe Riverside is really in a big budget crunch, and maybe that extra $100,000 is all that stands between them and the hobo jungle down by the freight yards. But if that's the case, then you shouldn't voluntarily offer reward money in the first place. This is one of those times where the spirit of an offer is more important than its legalistic terms. Even if nobody particularly deserves this money, Riverside and the others should settle on some folks who are not entirely undeserving. Then they should pay up.
---