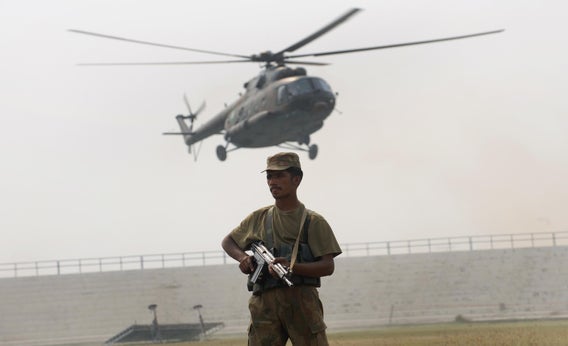 Crime is Slate's crime blog. Like us on Facebook, and follow us on Twitter @slatecrime.
As regular readers of this space know, I love stories about prison escapes—preferably audacious ones involving comical disguises, or ropes made from bedsheets, or creative means of transportation. So I was thrilled to read about these two Canadian inmates who recently escaped from a Quebec prison using a freaking helicopter. Apparently some accomplices hijacked a chopper, lowered a rope while hovering above the prison, and flew away unmolested as the men climbed their way to freedom. (The broad-daylight escape was so quick and startling that the guards apparently didn't even get around to firing on the fleeing helicopter.) Unfortunately for the two escapees, that freedom was short-lived, as both men were captured within 24 hours. But still! A helicopter appearing out of nowhere; the guards' confused faces as the prisoners clamber aboard; the sight of the prison receding in the distance: these are memories to keep you warm during those long nights in the hole!
Helicopter-assisted jailbreaks happen more often than you'd think, by which I mean "have happened more than once." The best story I know about comes from Greece, where two guys escaped from the same prison on two separate occasions using two separate helicopters. In 2006, a bank robber named Vassilis Paleokostas and an Albanian contract killer named Alket Rizaj arranged for associates to commandeer a helicopter and land it in the yard of the maximum-security Korydallos prison. Helicopters do not normally land in prison yards without good reason, and the startled guards assumed it was a surprise government inspection, or something like that. As they were tucking in their shirts, Paleokostas and Rizaj hopped aboard the chopper and flew away, before the guards even had time to fire a warning shot.
Both men were eventually captured, and both were returned to the same prison with the same helicopter-friendly exercise yard. This was a tactical error. In February 2009—one day before Paleokostas was to stand trial for the first escape—the two men arranged for another helicopter to spirit them away. Though the guards weren't as deferential this time around, opening fire on the chopper, the prisoners still made a clean getaway, climbing a rope ladder as the helicopter hovered above the prison. As you might imagine, this caused a bit of a scandal, and the warden was fired. I would have loved to have been at the termination hearing. I bet the warden blamed it all on the European Union.
Vassilis Paleokostas—who, as one website put it, is sort of a cross between "Jesse James, Robin Hood, and Jack Bauer in the body of a giant, bearded, bald Greek man"—remains at large. Alket Rizaj, however, was recaptured in November 2009 and assigned to a different prison. Last week, he attempted to escape once again, taking several guards hostage and claiming he was wired with explosives. The escape failed, partially because he didn't actually have any explosives, but mostly because it didn't involve a helicopter. He should have known better.
---