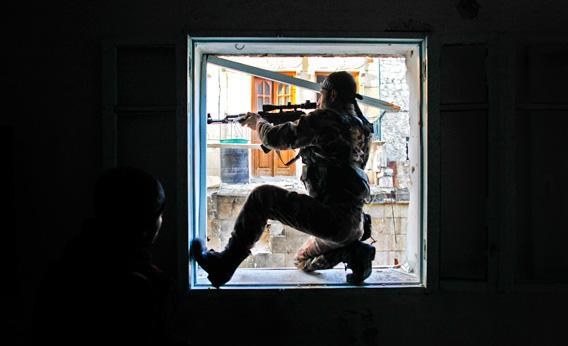 Obama could revisit his policy about whether to arm rebels in Syria, according to Tuesday's New York Times. The news came as European ministers rejected Britain's push to arm Syrian insurgents. How exactly do you arm rebels?
Quietly ask someone else to do it for you. Unless you're engaged in an open, declared war, you usually don't want to supply arms directly to your enemy's enemy. That way, even if your enemy and others suspect that you are providing weapons, you could still preserve what foreign policy wonks call "plausible deniability"—in other words, no one can prove that you were involved. Often the United States has asked a neighboring country or an enterprising arms dealer to handle the dirty work. Most recently, in Libya, we secretly supported arms shipments from Qatar. When we armed the Afghan mujahideen in their fight against the Soviets, most of the aid—including billions of dollars in weapons—was delivered through Pakistan. In the Bosnian War, we at the very least turned a blind eye as Turkey and Iran smuggled weapons in through Croatia to Bosnian Muslims. During the American Civil War, Britain let ships, often manned by British crews, run the Union blockade to sell millions of dollars in guns for cotton from the South, despite their declared neutrality. Even the rebels who founded the United States were armed in secret by the French: Because France didn't want to start another war with Britain, they sent arms through a dummy corporation called Roderigue Hortalez and Company. Some allies will help out of mutual interest. Others will do it as a favor. Others still will do it just for the money.
The best method of transporting the weapons varies widely by circumstance and topography. They might be delivered by land, air, or sea. If the rebels already control one of the country's borders, or if a border is poorly defended, then the arms might be shipped relatively easily by trucking them over from a neighboring ally. Air-dropping from planes, which can involve floating the supplies to the ground using parachutes, can be risky over enemy airspace, and is not efficient if you want to deliver heavier weapons like tanks and missiles.
Weapons can be called in from a number of different sources, but usually it's important that the weapons cannot be traced definitively back to their source. Often Soviet weapons like Kalashnikov rifles are used, since the Cold War made the cheap weapons widely available and in turn not easily traceable. The local insurgents may also already be familiar with how to use them. They could be called in from U.S. stockpiles or as a favor from a friendly country, or they could be bought covertly from arms dealers. If you send in a brand new American weapon, it's going to be harder to deny that it came from the United States. Of course, careful selection of the appropriate weapons, and vetting of the rebel allies, is crucial: You don't want to send in an anti-aircraft missile like the Stinger—as the United States did in Afghanistan—without being sure that you're not arming the next Osama Bin Laden.

Got a question about today's news? Ask the Explainer.
Explainer thanks Peter Andreas, author of Smuggler Nation, and Bill Smullen of Syracuse University.


---