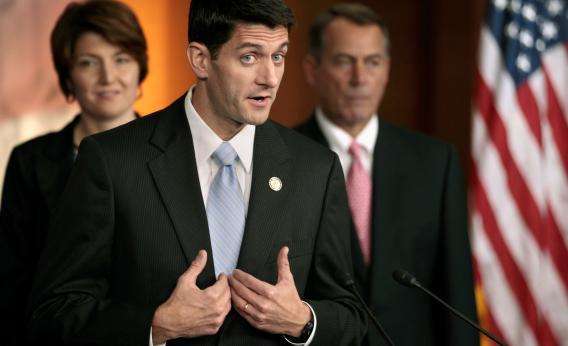 Rep. Paul Ryan is, to use that beautiful Washington crutch of a verb, disappointed that the White House missed its budget deadline, and the various campaign arms of the GOP are echoing that disappointment.
"I'm disappointed the president has missed his deadline. But I'm not surprised," the House Budget Committee Chairman said in a statement. "In four of the last five years, he's failed to submit his budget on time."
… "For the fourth time in five years this White House has proven it does not take trillion-dollar deficits seriously enough to submit a budget on time," Speaker John Boehner (R-Ohio) said in a statement.
But of course Ryan isn't "surprised." Three weeks ago, the White House publicly warned Ryan that it would miss the Feb. 4 deadline because the fiscal cliff negotiations had dragged on into 2013 and left beaucoups uncertainty about the new baseline. It didn't set a new hard deadline, but congressional and OMB negotiators are muttering about a bill coming in early March.

That's no exoneration of the White House or OMB. They didn't negotiate the deal very quickly! And they're always late with this budget. But you can see the long game Republicans started playing with the debt limit punt, and how every issue is now viewed as an opportunity to get the public blaming the White House, not them, for the things they hate about Washington.

---