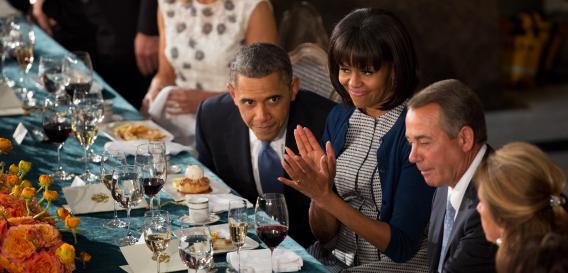 Chances are, we'll never know for certain what House Speaker John Boehner said to the president on Inauguration Day to prompt Michelle Obama to roll her eyes and shake her head (setting off one of many fleetingly popular memes of the day), but that won't stop inquiring minds from treating footage of the lunchtime incident as a modern-day Zapruder film. CBS's Inside Edition went ahead and brought in a lip-reading expert to try to solve the mystery:
So what was said? We asked expert lip reader Larry Wenig. Wenig believes John Boehner is asking President Obama whether he had a chance to have a cigarette before the luncheon. … Our lip reader, Wenig, caught Boehner saying, "Somebody won't let you do it," referring to Michelle, which prompted the first lady's big eye-roll.
The president famously quit smoking three years ago (something he's admitted to struggling to stick with), while Boehner is known for being something of a chain smoker. So if nothing else, the alleged joke would certainly appear plausible. But when asked by The Hill's gossip blogger Judy Kurtz if the lip-reader had cracked the code, a spokesman for the House speaker responded with a short and sweet email: "This is not true," effectively ruining everyone's fun.
For those of you who want to play amateur detective, you can check out the moment in question below and take to the Comments with your best guesses. The rest of you, however, should probably get back to trying to solve our other national mystery of the moment: Whether Beyoncé lip-synced or not.

***Follow @JoshVoorhees and the rest of the @slatest team on Twitter.***
---