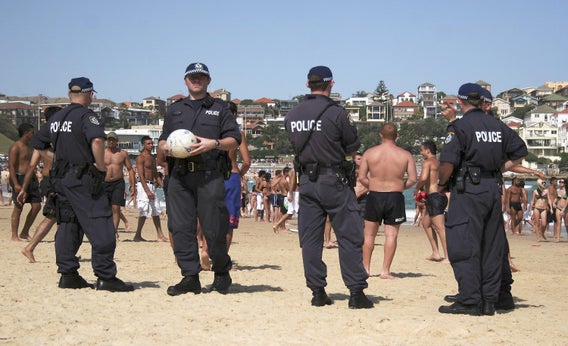 Crime is Slate's new crime blog. Like us on Facebook, and follow us on Twitter @slatecrime.
"Good Cop/Bad Cop" is an occasional feature highlighting the best and worst in American law enforcement.
Name: Detective Sgt. Richard Sassi Jr.
Known for: Litigiousness, unwanted seductions, brutality allegations. 
Fatal mistake: Ineptly seducing an informant.
The circumstances: In August 2012, Sassi, a detective sergeant in Beacon, N.Y., decided to visit one of his confidential informants. According to Sarah Bradshaw of the Poughkeepsie Journal, Sassi arrived at the informant's apartment with beer and amorous intentions, allegedly touching her leg and fumbling with her shirt in what appears to have been an exceedingly awkward and creepy situation. (Talk about non-consensual encounters.) Sassi was interrupted when the uncomfortable informant heard a strange noise outside.
The noise turned out to be the informant's boyfriend, who entered the apartment. A presumably nervous Sassi hid in a closet and, according to Bradshaw, here's what happened next:
The boyfriend found Sassi in the closet, wearing only his boxers, court records said. He pushed the police officer and threw his clothes out of reach, and tried to take cellphone photographs of him. Sassi is accused of pointing his gun at the boyfriend, saying he was a police officer and the man should back up. Sassi then called 911 to report a robbery, identifying himself as "Mike Smith," according to court records.
It wasn't long before the authorities realized that there was no robbery, and that the mysterious "Mike Smith" was actually their colleague, Det. Sgt. Sassi. He was suspended from duty and faces a third-degree misdemeanor charge of lying to authorities, not to mention the bemused scorn of his co-workers. '"Our policy is a minimum of two officers have to be present when meeting with informants,"' said Beacon's current police chief, adding that "drinking is prohibited for on-duty officers and that sexual relations with informants 'would not be proper.' " Well, it would've been nice to have known that at the time, you stupid chief!
Background: Where to begin? Sassi has been a Beacon police officer since 2001, and was promoted to detective in 2007, under controversial circumstances. He is the son of Beacon's former police chief, also named Richard Sassi, who was suspended and demoted in 2006 by then-mayor Clara Lou Gould after, among other things, pursuing an internal affairs investigation against Beacon policeman Jose "Tony" Rios, who was promoted to detective ahead of his son. Mayor Gould accused Sassi Sr. of "gross insubordination" and said that his "misconduct has resulted in a complete lack of trust on all levels of City government."
It's not hard to understand why the younger Sassi was initially passed over for promotion. In 2007, Sassi Jr. was named in a lawsuit alleging that he and another officer beat and pepper sprayed a man during a 2002 traffic stop, then "grabbed his head and banged his face into the sidewalk." (The city paid a $20,000 settlement in the case.) A U.S. District Court memorandum mentioned "a report by the local branch of the NAACP where unspecified 'community members' voiced concerns about Officer Sassi's harassment and arrogance." And in 2006, according to Beacon City Council Member Lee Kyriacou, Officer Sassi earned $90,000 of his $150,000 salary in overtime pay.
Despite all that, Sassi filed two separate discrimination lawsuits against the City of Beacon in 2006, claiming he had been denied a promotion to detective because of the city's unfair anti-nepotism policy. Sassi explained that, because of his father's status, he had been "humiliated, public embarrassed [sic], subjected to per se defamation, held up to public ridicule, impaired in his professional career, damaged financially, rendered anxious and upset, and otherwise rendered sick and sore."
"Nepotism doesn't apply here because Officer Sassi wasn't qualified enough for the job," said Kyriacou at the time, noting that, as opposed to the candidate who was ultimately promoted, "Officer Sassi has no detective training, is not bilingual, and did not get an award for heroism. The only thing that puts him above the rest is his last name."
Good cop or bad cop?: Let's give Det. Sgt. Sassi the benefit of the doubt here. It's possible that he was denied a promotion because of discrimination. It's possible that he never read the section of the cop manual that said it was inappropriate to seduce an informant. It's possible that, back in 2002, that traffic violator really had it coming.
But it's not likely. Bad cop.
---