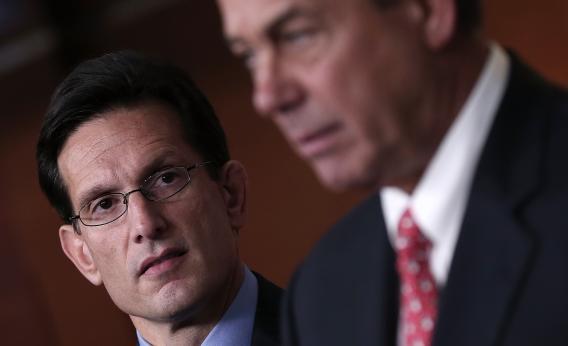 "The House Republicans' Primal Scream: And why their intransigence has become their own worst enemy," by David Weigel. A behind-the-scenes report from the House Republican conference on New Year's Day before the fiscal cliff compromise was passed. Weigel traces the recent history of GOP failures to cut spending or reform entitlements and explains why House Republicans—who actually believe the stuff they tell their constituents and who mostly don't have any real competition in their home districts—were so frustrated by the budget talks.
 "The Next Fiscal Cliff: Don't celebrate yet—the next budget crisis is just two months away," by Matthew Yglesias. "Welcome to the permanent fiscal emergency," writes Yglesias, in which the Treasury Department's authority to borrow money is a matter of never-ending political debate. Since the fiscal cliff compromise passed this week had nothing to say about long-term deficit, America will hit its debt ceiling (or hit it again, depending on how you look at it) in early March. Thanks to the "Boehner rule," which calls for $1 of spending cuts for every $1 the debt ceiling is raised, and since the White House vows not to bargain over the debt ceiling again, Washington has entered "the era of semi-permanent fiscal policy crisis."
 "Do You Think Like Sherlock Holmes? What the detective can teach us about observation, attention, and happiness," by Maria Konnikova. How does the most famous (fictional) detective in the world do it? The key to thinking like Sherlock Holmes is both seeing and observing—in other words, being mindful of your surroundings. And science has shown that Arthur Conan Doyle's protagonist was onto something. Konnikova reviews the research that has demonstrated the many psychological and emotional benefits of mindfulness.
 "Royally Brewed: Would you spend thousands of dollars for a rare bottle of beer on eBay?" by Christian DeBenedetti. Of all the pretensions that have accrued in the beer world over the past few years, none may be more ridiculous eBay auctions of rare bottles, some of which command four figures. The fact that such auctions are illegal and defy eBay's own policies hasn't stopped opportunists. DeBenedetti explores the online black market for beer and explains how beer has become more like wine—and what that means in the marketplace.
 "Ride 'Em, Cowboy! Alisa Valdes on the real man who taught her how to be a woman," by Hanna Rosin. Are women biologically programmed to submit to manly men? That's the central question raised by this review of Valdes' "charming and totally messed up memoir The Feminist and the Cowboy," about how Valdes learned how to throw off feminist shackles and connect "to the ancestral feminine womanhood that I carried in my DNA" by sleeping with a hot rancher. Rosin doubts that Valdes is truly as docile and dependent on her man as she claims to be.
 "My Technology New Year's Resolutions: Forget Inbox Zero. Get off Twitter. And other resolutions to make my tech life better in 2013," by Farhad Manjoo. You're never going to read and respond to all the emails in your inbox, so quit trying. Then again, you will read everything in your Twitter feed—even about topics you don't even care about—unless you stage a self-intervention. Slate's technology columnist shares his New Year's resolutions about how to use gadgets more effectively—and how to be a better person in the process.
 "Is Fat Good? Epidemiologists struggle to explain a study that challenges a core belief: Fat will kill you," by William Saletan. A new review of almost 100 studies suggests that being overweight—and even mildly obese—makes people less likely to die, rather than more. Saletan argues that these findings don't mean being fat is good for you. It's more complicated than that, for reasons ranging from the way we categorize overweight and obesity to the way doctors treat fat people.
 "It's Better To Be Raised by a Single Mom: The kids get that magical quality: grit," by Pamela Gwyn Kripke. After 10 years of raising two daughters by herself. Kripke reflects on what she and her daughters have gained by living in an "all-gal house." Self-reliance, resourcefulness, and generosity are among the tools acquired by kids of single parents. And unlike either children of affluence or kids who grow up in poverty, children of single parents get support and learn what struggle is—a winning combination.
 "The First Amendment Versus the Second Amendment: Why a New York paper had every right to publish the names and addresses of local gun owners," by Emily Bazelon. The suburban New York Journal News published a map listing the name and address of every gun permit holder in \Westchester and Rockland counties. Conservatives were outraged, but all the paper had done was take advantage of the state's "open records act that says the name and address of handgun permit holders 'shall be a public record.' " Bazelon examines the tension between privacy and the public's need for transparency—and the journalistic value of the Journal News' map.
 "Barriers To Entry: Porn, protectionism, and the black-market origins of the American condom industry," by Peter Andreas. Until the mid-19th century, condoms (made of animal skin, not latex) cost about a $1 each—way too much for the average person to afford. Andreas, author of the forthcoming Smuggler Nation: How Illicit Trade Made America,  traces the democratization of the condom beginning in the late 1800s, when the Comstock Act—which suppressed "Obscene Literature and Articles of Immoral Use"—was passed. The Comstock Act inadvertently enabled the condom trade to flourish by banning imports and opening the door for underground domestic manufacturing.
---