The federal government today pushed back a looming deadline for those hit hardest by Superstorm Sandy to apply for FEMA grants intended to help them recover and rebuild what they lost in the storm. Residents will now have an extra month to file the necessary paperwork for federal disaster assistance.
Judging from a recent trip to Coney Island, residents there will need it.
The Brooklyn neighborhood is best known as a summer destination for those looking to walk along its famous boardwalk, or take a ride on one of its iconic roller coasters. But walk just a few blocks from the tourist area, past the Brooklyn Cyclones minor league stadium, and you'll find yourself in one of the poorest neighborhoods in New York City, where the median household income is only $22,315—a number from 2009, before Sandy blew through town with its particular brand of havoc.

Last week, nearly three months since the storm, I found the relief effort struggling under the weight of the community's needs. Outside Beth Shalom Ministries on Neptune Avenue, a Red Cross van gave out hot meals, and a line—made up overwhelmingly of women over 50—streched down the block for food pantry supplies.

Coney Island isn't front and center for most New Yorkers concerned about the lingering impact of the superstorm, something that's not an unusual complaint for a city where attention has long focused on Manhattan. But even the well-organized and ever-present Occupy Sandy movement that has lept into action in outer borough neighborhoods doesn't have regular volunteer opportunities here.
The devastation that is still ongoing in Coney Island is insidious. The basements of the Coney Island Houses were flooded with water and sand, serious damage that led to weeks without power, heat or running water, but fewer visual signs of distress. New York City officials announced in late December that power had been restored to all public housing in the area but many of the complexes are still reliant on temporary boilers during the frigid January weather, leading to inconsistent service at best. There is no firm timetable on when they'll be permanently replaced.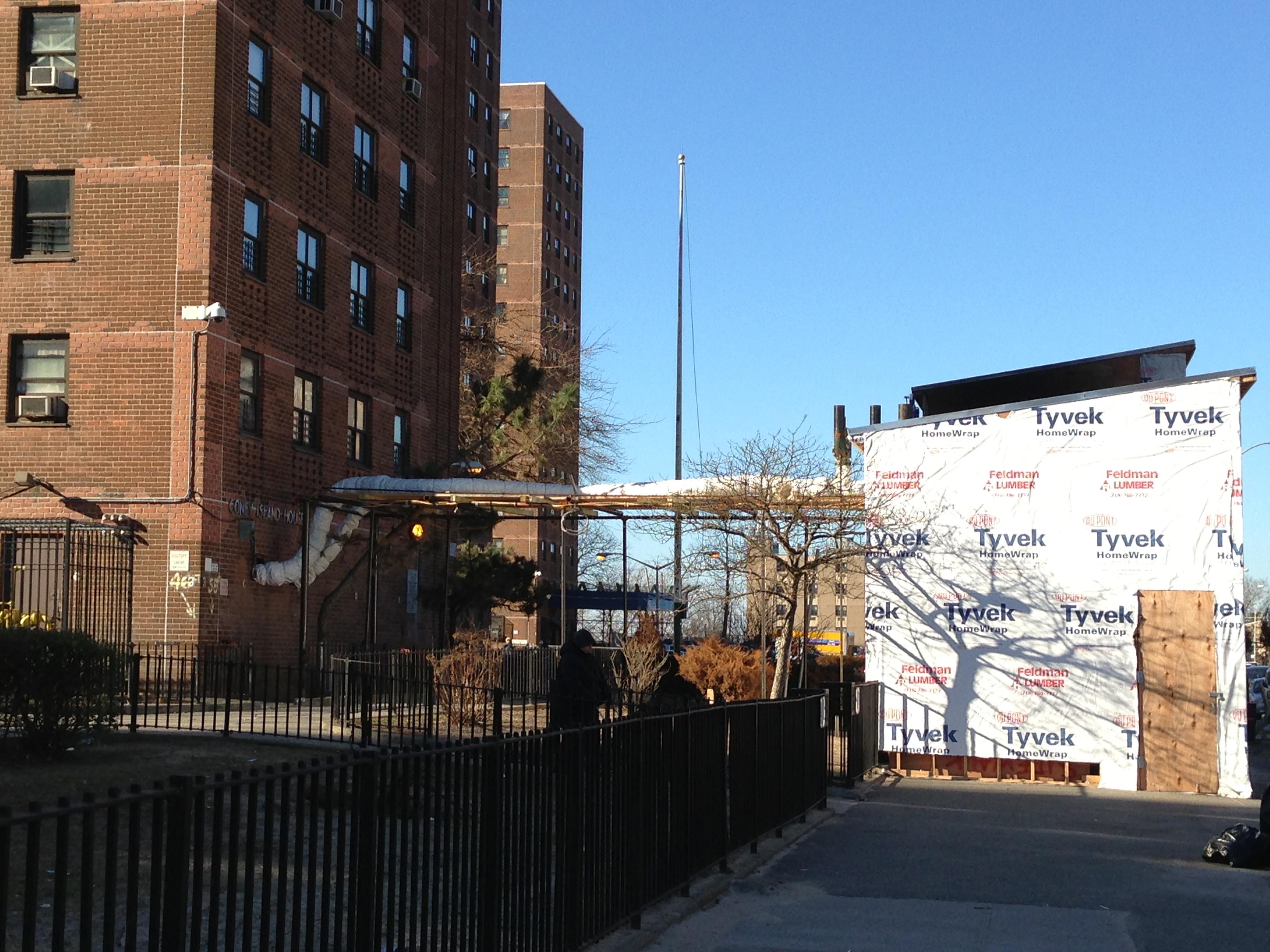 I met Pastor Brian Steadman during my trip, roughly a week before FEMA's original Monday deadline. Steadman is the assistant pastor at the Park Slope Presbyterian Church, which is based a few miles away in a much more affluent neighborhood. He first came to Coney Island in the weeks following the hurricane—he was looking for areas that had the most need in Brooklyn. Neighborhoods like Red Hook, he explained, had strong existing social service organizations like Red Hook Initiative to jump-start recovery. But due in part to its relative isolation, Coney Island had little such charitable infrastructure.

Originally from Alabama and with a background in construction, Steadman was working with a crew of church volunteers to do mold remediation on a beauty parlor that sustained chest-high flooding during the storm. Many of the businesses in the area were uninsured or under-insured, making their reopening chances tied more directly to to either charity (like what Steadman ahd his group were doing) or FEMA money. "It's clear to me there was a lot of need down here before the hurricane, but the hurricane just brought that more to our attention," he told me. "We hope to be here helping the community long-term."
Outside the church, there was a trailer where Brooklyn Jubilee, a Christian legal services organization is helping people fill out the FEMA forms. While they are currently working in conjunction with another charity group, Met Council, to get people signed up for regular services like food stamps, they were also scrambling to get the federal disaster-aid forms in on time. Saturdays are among the busiest days because that's when they have the Russian and Cantonese translators there, explained Sandhya Boyd, the group's director. Many of the residents in the area are immigrants, and can be reluctant about and intimidated by filling out the complex forms. Sometimes people whose applications have been denied show up with a hand-written note from a FEMA officer encouraging them to get Brooklyn Jubilee's help in reapplying.
Simple mistakes can often derail an application. Samantha Shokin, who is a media relations specialist for FEMA in Brooklyn, told me that a simple misspelling or a "lane"-instead-of-"road" mixup on the address portion of the forms could be enough to force the computers to deny an application.

By Shokin's count, FEMA has received 12,000 applications from Coney Island and Sea Gate, a wealthier gated community nearby. But Brooklyn Jubilee's Boyd said she is worried that not enough of the poorer residents she works with have gotten their applications in yet. The organization is working to follow up and track people down that they connected with in emergency shelters. How much FEMA money the area is able to get will have a big impact on its recovery prospects.
Steadman hopes to work in the area not to just get it back to where it was before the storm, but to increase the quality of life there overall. "But right now everyone is just waiting, waiting to see what help and money will come through," he said.

The new deadline to apply for FEMA grants is Feb. 27. For more information, including how to apply, visit www.disasterassistance.gov/