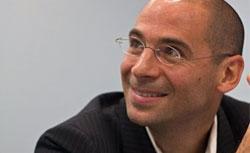 Hi, I'm David Plotz, the editor of Slate. In practice, this means I go to a lot of meetings. Then, at parties, I take credit for anything brilliant written by Matt Yglesias, Emily Yoffe, or Farhad Manjoo.
When I'm not fending off my wife Hanna Rosin's attempt to destroy the males of the species, I host the Slate Political Gabfest with Emily Bazelon and John Dickerson. (We're doing a live one in Washington, D.C., next week.) I wrote a book about a sperm bank for Nobel Prize winners (completely weird and 100 percent true) and a book about the Bible (completely weird and 20 percent true). I've also written a lot about my love of barbecue, pies, and Friday Night Lights, and my hatred of pandas.
Join me Tuesday, Jan. 22 at 1 p.m. ET on Reddit, where I'll be happy to answer whatever questions you have about Slate, the Gabfest, sperm banks, the Bible, the Washington Post Company's 401(k) plan, or anything else.
---