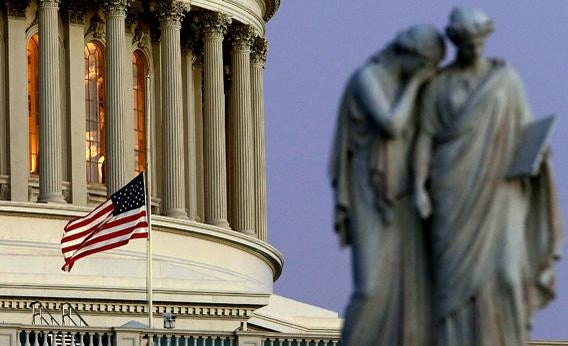 Speaker of the House of Representatives John Boehner ordered the flags on the Capitol building lowered to half-staff on Friday afternoon in honor of the victims of the shooting in Newtown, Conn. President Obama issued his own proclamation ordering all flags to half-staff. Who's in charge of flag position?
The president and governors. Title Four of the United States Code names the president as the primary authority for changing the position of the flag. The statute authorizes him to order the flag lowered for the deaths of government figures, foreign dignitaries, or "other officials." State governors and the mayor of the District of Columbia can also lower the flags to honor fallen soldiers or their own government officials. The statute does not explicitly authorize the speaker of the House to order the flag lowered, but that doesn't mean Boehner overstepped his powers. The law vaguely notes that the flag can be lowered to honor the fallen "in accordance with recognized customs or practices not inconsistent with the law." The federal laws concerning appropriate treatment of the flag are merely advisory, anyway, and there's no punishment for violation of the guidelines. Without any legal consequences, no court will hear a challenge to Boehner's decision or define the boundaries of his flag powers. It should also be noted that the law establishes a general principle for flag treatment: "No disrespect should be shown to the flag of the United States of America." Speaker Boehner's order did not violate that principle.
If you fly the stars and stripes at your own home or business, there is an appropriate procedure for flying the flag at half-staff. You first hoist Old Glory to the top of the pole, then lower it to the half-staff position. At the end of the day, you're supposed to reverse the process, raising it to its highest point before bringing it down.
On certain occasions, there's no need to wait for the president's go-ahead. The flag is, by law, to be flown on Memorial Day at half-staff until noon and for the entire day on Peace Officers Memorial Day. Upon the death of a sitting or former president, the flag flies at half-staff for 30 days. If the sitting vice president, the chief justice or a former chief justice of the Supreme Court, or the speaker of the House dies, the flag is lowered to half-staff for 10 days. Upon the death of other officials, including associate Supreme Court justices, secretaries of military branches, and former vice presidents, the flag flies at half-staff until the decedent is buried. Deceased members of Congress are honored with a half-staff flag until the end of the day of the death.
Got a question about today's news? Ask the Explainer.
---