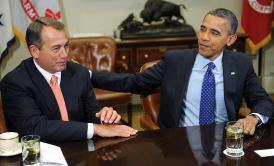 President Obama made it clear Saturday that he's more than willing to play a game of chicken with Republicans, confident he's not the one who will have to blink first. In his weekly address Saturday, Obama said there are only two outcomes possible during negotiations over the so-called fiscal cliff: taxes for the richest Americans go up, or everyone's taxes go up, reports the Hill.
Obama said that he hopes to be able to "give families and businesses some good news going into the holiday season" and called on House Republicans to quickly approve the bill that would extend Bush-era tax cuts for those making less than $250,000 a year. In the Republican response, Sen. Kelly Ayotte insisted on the issue of tax reform, saying loopholes must be eliminated as a way to increase revenue. She added that the year-end "fiscal cliff" deadline "provides an opportunity for both parties to change our country's irresponsible spending path," reports CBS News.
"When it comes to taxes, for example, there are two pathways available," Obama said. "One says, if Congress fails to act by the end of the year, then everybody's taxes automatically go up. … The other path is for Congress to pass a law right away to prevent a tax hike on the first $250,000 of anyone's income."
Democratic and Republican congressional leaders both expressed optimism Friday after they left a White House meeting to discuss the looming fiscal cliff.
"We have the cornerstones of being able to work something out," said Senate Majority Leader Harry Reid, according to the Los Angeles Times. "This is not something we're going to wait until the last day of December to get done. We have a plan. We're going to move forward on it."
For now though fiscal cliff conversations will have to be put on hold as Obama left Saturday for a brief tour through Southeast Asia, with stops in Thailand, Cambodia, and Burma. He will be gone for only five days, but some have still criticized the president, saying he should have canceled his trip until a deal to avoid the tax increases and spending cuts of the fiscal cliff is sealed, reports the National Journal.
---