Every morning when Barack Obama's campaign manager Jim Messina turned on his computer, he saw a snapshot of the state of the race. Campaign software engineers had built him a dashboard that showed how many doors volunteers had knocked on the night before, how many phone calls they had made, how much money had been raised, and what was moving on Twitter and other social networks. It also included a feed of traditional news feeds. "That allowed me to get a good sense in the morning of what was going on in our world." Messina says it was about 10 days before Election Day when he looked at those numbers and the early-vote tallies that he began to smile. "That's when I started to feel pretty good. I looked at the numbers and we were crushing it out there."
Mitt Romney referred to himself as a "numbers guy," but in the end, the numbers betrayed him. Messina used the same label to describe himself, and in the end, he earned it. His obsession with measuring and collecting data paid off, but not because he abandoned the human aspect of politics—just the opposite. Messina's obsession with numbers was built on repeated bets about human nature.
I talked to Messina as he drove west for some post-election relaxation about what lessons he took away from managing the 2012 enterprise, about team building, managing the information firehose, knowing when to take risks, when to adapt, and when to just keep moving. Throughout, Messina's core message was that he strove to combine the human and the numerical.
The Obama campaign's massive network of neighborhood offices is a good example of the human theory behind the numbers. Obama's team often boasted about how many offices it had opened, especially in critical swing states. During the summer when I talked  to a top Republican operative in one of the battleground states about Obama's impressive number of field offices, he scoffed at the waste of time and money; it was only so much real-estate bragging. But behind the numbers was a theory about voter interaction. If a voter met someone who looked like them and shared their experience, he or she might be more receptive to Obama's message. In the months of touring all the battleground states and back again, the Obama offices always seemed to mirror the local setting; the Romney victory centers were more corporate. The number of neighborhood offices was really a demonstration of the commitment behind the push for a human connection. "These people get all kinds of information but if they have a neighbor that can help them sort through information—that was one of the secret weapons of Barack Obama's campaign," says Messina.
Empowering each little neighborhood office was part of the Obama campaign's larger theory about teamwork. "When you're in a big world of a $1 billion campaign, you are in many ways just someone who brings a team together and empowers them," he says. This sounds fuzzy, and so does the goopy word "empowerment," but that's where the data comes in. Data means accountability. "The trick is allowing everyone to feel like they have a piece in building it, but it can't be pie in the sky. You have to have firm metrics that are measurable every day. There's a fine line between allowing people to dream up their campaign and having them be accountable."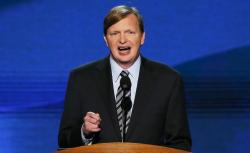 How did this work in practice? During the 2011 cycle, volunteers at Organizing for America, Obama's campaign arm that never stopped after the 2008 effort, asked to put their energies into contests like the Wisconsin recall election of Republican Gov. Scott Walker and local congressional and mayoral races. Messina originally had wanted OFA only to focus on the presidential race, but he changed course using the volunteers' enthusiasm for local races to test the systems that would be used in the presidential race. "We moved resources to Wisconsin and ran some tests in mayors' races and congressional special elections and that became laboratories for what we built in 2012. We never planned to do it that way, but it was one of the best things we did. People worked way harder, were way more involved, and we learned a whole lot that became our tech products."
One of the products that the Obama team discarded was the iPad at the door. When volunteers tried to use the iPad to talk to voters—showing them a video or other material—it didn't work. "Showing ads at the door didn't make sense. It was about having conversations. We trained our people to have longer conversations. We iterated."
Iteration—a favorite business buzzword—was key, and so was not being afraid to make mistakes. "In campaigns you have to keep moving. You have to make decisions. Sometimes the wrong decision is the right one if you make it fast enough. Politics is motion. If you put an ad on the air, it might be more beautiful if you took another day or to have [David Axelrod] take one more shot at it but then that would be 24 hours you weren't moving your message."
The pivot in 2011 was just one of the ways the Obama campaign had to be alive to outside voices. One day former Florida Gov. Charlie Crist called to say that the campaign was targeting Puerto Rican voters the wrong way. Messina listened and changed the approach.
Messina and the other Obama strategists were listening to the voices of doubt, too. Interviews with a variety of members of the Romney campaign suggest that they never seriously entertained the most pessimistic scenarios about voter turnout. (Senior adviser Kevin Madden discussed this with me at the Aspen Ideas Festival yesterday.) They never thought Democrats would turn out in the numbers that they did. At the Obama headquarters, they took a more skeptical approach. "There was a lot of pressure on us about whether or not we were too insular. We did get out and go around the country and learn from folks to make sure that we weren't believing our own bullshit. I said to our team, 'Check 'em again, make sure we're right.' There's a tendency to be slave to your own data, even if it's wrong. Garbage in, garbage out. Seven days out I asked our pollsters and analytics folks to scrub the numbers. Recheck everything and recheck assumptions. Let's say their turnout explodes, how many states do we still win?"
At one point during the exercise, the campaign's chief analytics staffer ran a model with Republican turnout 8 percentage points above what the Obama campaign was planning for it to be. The scenario had Obama winning with 271 electoral votes. "He said, 'Jim we're going to win this,' " recalls Messina.
That doesn't mean they weren't nervous. "We believed in our data, but I'd be lying if I said that all these wrong polls and nervous supporters didn't make us recheck things."
If some channels of communication were open to the campaign, others were closed. "The single smartest thing the president did was put the headquarters in Chicago. We could sit in that office and stay focused. During the debt limit crisis I was in the bathroom washing my hands and a software engineer said, 'Hey, is anything going on in D.C.?' They were busy building these cool tools we were going to need in a year and a half. That happened as well after the first debate. People came unglued, but we were worried about early voting starting and what we were doing on the ground."
Strategists for political campaigns will go to school on the Obama 2012 campaign the way they did the Obama 2008 effort. Messina warns against that. "I studied every campaign for the last 60 years, and the ones that tried to run a re-elect like the first one ended up losing." His first piece of advice for his campaign was to learn the best lessons of 2008 and then forget 2008. "If we'd just slapped 'Hope' on a bumper sticker this time, it wouldn't have worked." Being so free to discard the past is not a common trait in political campaigns, which have a special place for wise old hands. "I think the days where you sit back in a back room and smoke cigars and say, 'this is how you win Waukesha'—those days are over. I've been doing this 20 years, and a lot of what is in politics is sheer B.S. It's people's opinions giving answers to questions that are actually quantifiable."
It's a not just a theory. He has the numbers to prove it.