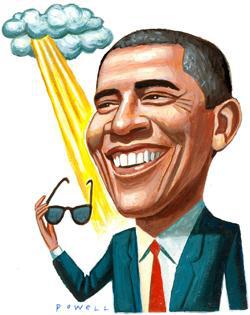 Every day until the election, Slate will offer up one reason to be optimistic for your candidate.
Eight days to go:
Today's Good News for Obama: As Hurricane Sandy hurtles toward the East Coast, Mitt Romney has canceled all campaigning in Virginia for the foreseeable future, axing his intended tour through the critical swing state. The timing couldn't be worse for Romney: A new poll shows Obama leading the Republican challenger 51 percent to 47 percent among likely voters, recovering a lead that had disappeared throughout most of October. Other polls show the candidates at a dead heat, but the momentum in Old Dominion appears to be in Obama's favor during the closing days of the election. Romney is missing a valuable chance to make closing arguments in Virginia, giving Obama the opportunity to nab the state's highly coveted 13 electoral votes on Nov. 6.
See Barack Obama's earlier rays of hope.
---