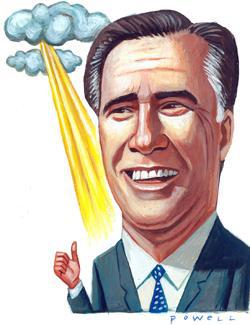 Every day until the election, Slate will offer up one reason to be optimistic for your candidate.
Eight days to go:
Today's Good News For Romney: Every realistic path to victory for Mitt Romney includes North Carolina's 15 electoral votes; every realistic forecast of Hurricane Sandy involves it ripping through a swath of the Tar Heel State. And while the storm will keep both Democrats and Republicans indoors, Republicans have everything to gain from the resulting decrease in early voting. Democrats have already seized 49.5 percent of the early vote in the state, far outnumbering Republicans' 31.1 percent share. Obama has known all along that he'd have to rely on these early voters to have any shot of winning North Carolina. (He won it in 2008 with 14,000 votes, probably thanks to early voting.) Yet as the storm batters the state and shuts down early voting stations, Democrats are likely to lose much of their lead, as would-be early voters forego the dwindling opportunities to cast their ballots. North Carolina has hovered around a tie for much of the election, but Hurricane Sandy may have just delivered it for Romney.
See Mitt Romney's earlier rays of hope.
---