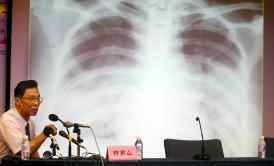 SARS is back. Well, sort of.
U.K. officials have identified a new "SARS-like" coronavirus in a 49-year-old man currently undergoing treatment in Britain. So far, the only other confirmed case is a Saudi Arabian man who has since died.
Here's what health experts had to say about the news to the BBC:

Prof John Watson, head of the respiratory diseases department at the UK's Health Protection Agency, said: "In the light of the severity of the illness that has been identified in the two confirmed cases, immediate steps have been taken to ensure that people who have been in contact with the UK case have not been infected, and there is no evidence to suggest that they have. Prof John Oxford, a virology expert at Queen Mary, University of London, said he felt "somewhat relaxed" about the news."Sars was very quick off the mark infecting hospital staff etc and this new virus does not to me appear to be in the same 'big bang' group."
Coronaviruses are a large family of viruses that includes ones that cause the common cold and SARS (severe acute respiratory syndrome). Like other coronaviruses, SARS is spread through droplets of body fluids produced by sneezing and coughing. In 2002, SARS caused a global outbreak that killed around 800 people, spreading from Hong Kong to more than 30 different countries around the world. Although it has not been eradicated, its spread was fully contained in 2003.

---