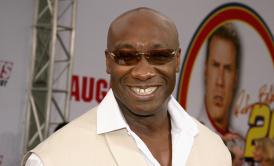 Michael Clarke Duncan, the hulking, baritone-voiced actor best known for his Oscar-nominated turn as a death row inmate in The Green Mile, died Monday at the age of 54 after suffering a heart attack earlier this summer, according to his publicist.

The Associated Press with the details:
"The muscular, 6-foot-4 Duncan, a former bodyguard who turned to acting in his 30s, 'suffered a myocardial infarction on July 13 and never fully recovered,' the statement said. 'Manigault is grateful for all of your prayers and asks for privacy at this time. Celebrations of his life, both private and public, will be announced at a later date.'"
Duncan played a handful of minor roles before his portrayal of John Coffey, a convicted murderer with a special psychic gift, earned him an Academy Award nomination for best supporting actor, and helped turned him into one of the more recognizeable character actors on the silver screen.
In a 2000 interview with the Los Angeles Times, Duncan had this to say about his affinity for his Green Mile character: "I identified with John Coffey in the fact that we both had troubled times, we are both big, and by looking at us, you would be fearful of your life if you met us in a dark alley."
---