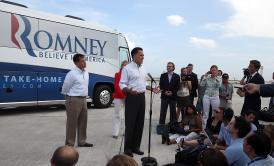 The boys on the bus, indeed.
A new study out this week suggests that when it comes to newspaper coverage of this year's presidential campaign, roughly three-quarters of the reporting is being done by men.
The Women's Media Center and the 4th Estate Project teamed up to analyze campaign coverage bylines in about three dozen national and state newspapers this year and found that during the GOP primary (defined as from Jan. 1 to April 15), 76 percent of articles were penned by male reporters. For the general election (defined as April 16 to Aug. 25), men's market share dipped a bit, but not much, to 72 percent.
The numbers aren't entirely a shock given the current makeup of the nation's newsrooms—a recent industry survey pegged the percentage of male reporters at 62 percent—but nonetheless suggest that the campaign bus is particularly male-heavy.
The unequal split is also noteworthy given the fact that this campaign cycle has been largely dominated by so-called women's issues ranging from abortion (see: Akin, Todd) to birth control (Fluke, Sandra) to stay-at-home moms (Romney, Ann).
You can read more on the study here (h/t AtlanticWire).

---